Kruger completed the reconstruction of its No. 10 Newsprint Machine at its Trois-Rivières Mill in May 2017. Image courtesy of Axel Drainville.
The PM10 machine was extensively rebuilt to enable the manufacturing of lightweight linerboard. Image courtesy of ABB.
A number of new units were installed and certain old equipment was dismantled as part of the rebuild project. Image courtesy of Kruger.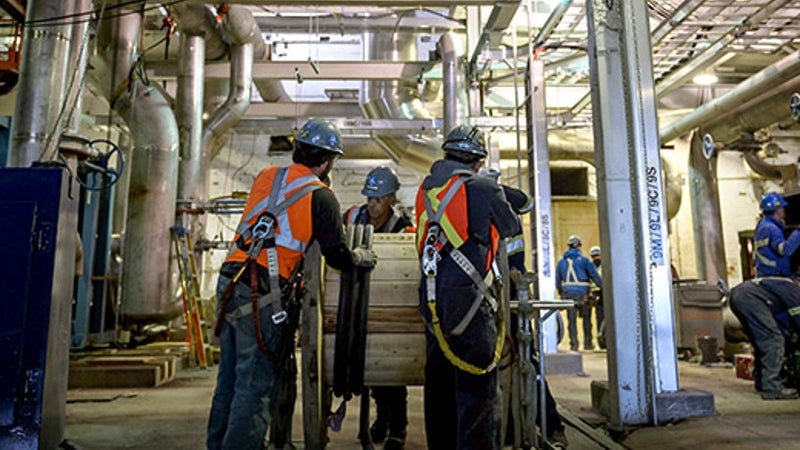 Canadian containerboard and packaging products manufacturer Kruger completed a major construction project at its Trois-Rivières Mill located in Québec, Canada, in May 2017.
The $250m project saw the conversion of the mill's No. 10 Newsprint Machine (PM10) to enable it to manufacture 100% recycled lightweight linerboard commercialised as XTR™.
Kruger first announced the project in collaboration with the Government of Québec in September 2015.
The conversion required 500,000 person-hours of work over a 20-month period and has also helped secure 270 jobs at the Trois-Rivières mill.
The project will enable Kruger to fulfil the rising demand for lightweight and high-strength linerboard, both in North America and worldwide.
Features of the new PM10 machine
The technology used for the new 8.4m-wide (wire) PM10 machine was chosen following the examination of a number of manufacturing plants across North America and Europe.
The PM10 machine includes a dilution headbox for fibre alignment, a shoe gap former to render maximum strength, and a size press to add starch to the sheet and provide enhanced strength.
It also features a calendar to provide smoothness to the linerboard and improve its printability.
PM10 is the first machine in North America to feature steel dryer cans, which will further increase smoothness and uniform moisture. It also possesses improved fibre cleaning and preparation equipment to enable higher-quality sheet formation.
In addition, the machine features ABB's ACS880 MultiDrive system, which replaces the existing DC drive system. It is also equipped with online monitoring facilities for short-span compression testing (SCT) and high-tech camera systems.
PM10 conversion details
The machine's conversion required a number of installations, as well as the disassembly of numerous parts. More than 100km of new power and control cables, various consoles and equipment were included in the upgrade.
The existing control systems were migrated to a new mill control solution, while a new starch system and chemical and heat recovery mechanisms were installed.
Dismantling the replaced equipment and the upgrade and modifications of existing assets were also part of the project.
In addition, a new old corrugated container (OCC) plant was built to supply the recycled fibre required for the PM10 machine.
The OCC plant has a capacity of 1,150 metric tonnes (mt) a day and is capable of operating at both low energy and high capacity.
The components of the OCC include Hydrapulper®, Hydraflow detrasher, a ragger and ragger tail cutter, a trashwell, cleaners, and a screening system equipped with V-MAX® screen cylinder, and other equipment.
Products from the rebuilt PM10 machine
The PM10 machine will manufacture 360,000mt of XTR linerboard a year, which will be lighter and stronger than conventional linerboard.
A part of the production will be supplied to Kruger's packaging facilities in LaSalle, Québec, and Brampton, Ontario, while the remaining stock will be supplied to manufacturers across North America.
The XTR linerboard produced by the machine will have higher strength than competing materials, with weights ranging from 88g/m² to 171g/m² (18lb-35lb / 1,000ft²).
It will feature sheet formation and surface characteristics that can be used for high-quality graphic printing.
The new linerboard will also enable packaging manufacturers to reduce their operating costs, while improving efficiency and sustainability.
Financing for the Kruger's rebuild project
The Government of Québec provided a sum of $190m in support of the project, including an $84m loan and a $106m investment via Investissement Québec. The government now owns 25% of the company as a result of the investment.
"The conversion required 500,000 person-hours of work over a 20-month period and has also helped secure 270 jobs at the Trois-Rivières mill."
Contractors involved
The detailed engineering and construction contract for the rebuild project was awarded to Pöyry.
DAWCO was contracted to carry out instrumentation and electrical works for the upgrade.
Valmet supplied its Valmet DNA automation system, along with the Valmet Pulp Analyzer and other related equipment.
Kadant Black Clawson was contracted to supply the OCC plant, while ABB supplied and installed the drive systems for the PM10 machine and its winder.