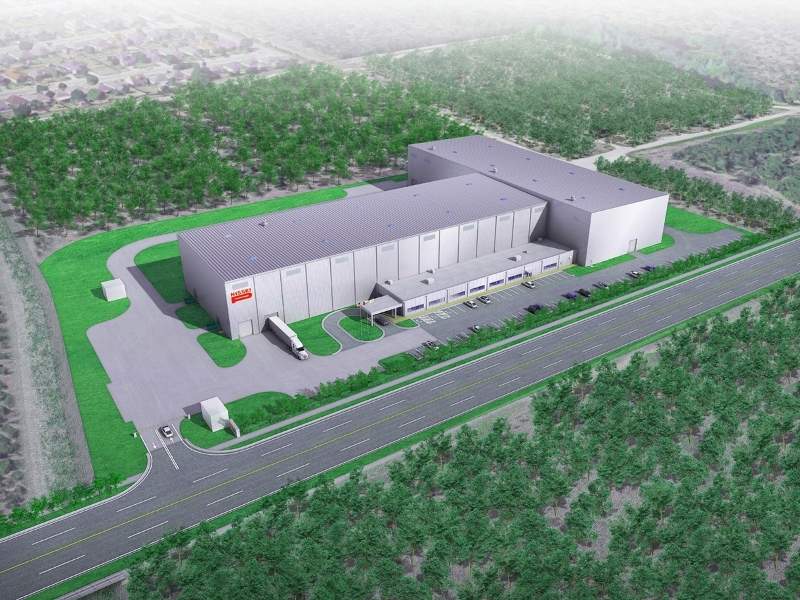 Nissei Plastic Machinery America constructed a new injection moulding machines manufacturing facility in the US. Image courtesy of Nissei Plastic Industrial Co., Ltd.
The new facility is Nissei's third facility outside Japan, after the two plants in China and Thailand. Image courtesy of Nissei Plastic Industrial Co., Ltd.
The new factory accommodates areas for assembly and warehousing. Image courtesy of Ken Kinder.
Japanese plastic injection moulding machine manufacturer Nissei Plastic Industrial launched a new subsidiary named Nissei Plastic Machinery America in December 2016 as part of its growth strategy, which aims to boost the company's global production and distribution network.
The company's wholly owned US-based subsidiary constructed a new injection moulding machine manufacturing plant in south San Antonio, Texas, US.
The $20m facility is Nissei Plastic's third manufacturing facility outside Japan, following two other plants in Taicang, China, and Rayong, Thailand, which were launched in 2009 and 2012 respectively.
Nissei Plastic aims to enhance its supply chain network by establishing production facilities in key global locations.
The company also intends to improve  its access to global markets and optimise procurement via the initiative.
Construction of the new manufacturing facility started in December 2016 and was completed in February 2018. The plant commenced operations in March 2018.
The facility manufactures and sells plastic injection moulding machines and related equipment to the US market, which is the company's second-biggest export market after China.
Details about Nissei's US plant in Brooks City Base
Nissei's new manufacturing facility was constructed at Brooks City Base, the former Air Force base in San Antonio.
The company initially purchased a nine-acre land in the evolving economic hub from the Brooks Development Authority in October 2016.
The air base was considered an ideal location for the plant for three main reasons, including San Antonio's geographical location in the middle of North and South America, which will allow the company to address increasing demand in both regions.
"With production facilities in key global locations, the company aims to enhance its supply chain network and its access to global markets."
San Antonio has also attracted a number of automobile manufacturing companies and is in close proximity to both the Midwestern US and Mexico, where automotive manufacturing clusters are located.
The state of Texas also offers an attractive state tax regime, which includes zero corporate and personal income taxes.
Other major benefits include improved customer satisfaction with quick response times, reduced waiting times and faster delivery.
An on-site inventory will also enhance customer service and facilitate shorter lead-times as orders will no longer have to be shipped from Japan.
Details of the injection moulding machines manufacturing facility
The new plant is a 115,000ft² manufacturing facility, which has been constructed in an area spanning 392,040ft².
A new 13,700ft² office building and 47,000ft² warehouse were also constructed within the same vicinity.
The plan also included the construction of a new technical centre, which is equipped with demonstration machines for moulds and materials in order to provide technical assistance to customers.
The centre enables customers to test systems prior to purchase.
Production at Nissei's manufacturing plant in San Antonio
The plant is primarily involved in machining and the assembly of medium to large-scale hybrid injection moulding machines with clamping forces between 500 and 1,440 short tons.
The main components for the assembly are supplied from the company's manufacturing plants in Japan, Thailand and China, while procurement from local suppliers is slated to be increased gradually.
Nissei's San Antonio plant will begin manufacturing moulding machines of the highest quality and reliability standards in a later phase.
The products will be branded as Made in USA and Made by Nissei products and will be supplied to Central and South America, US and Canada.
The supply is also planned to be extended to European countries in future.
Contractors involved
The Texas Department of Licensing and Regulation reported that the plant was designed by Atlanta-based design firm Appleby + Laccetti Architects.
Marketing commentary
The demand for competitively priced medium to large scale production equipment is expected to grow in the US, with an increasing amount of manufacturing companies seeking local production capabilities.
The demand is expected to see a steady growth, especially in major categories such as packaging, daily goods, household products and automobiles.