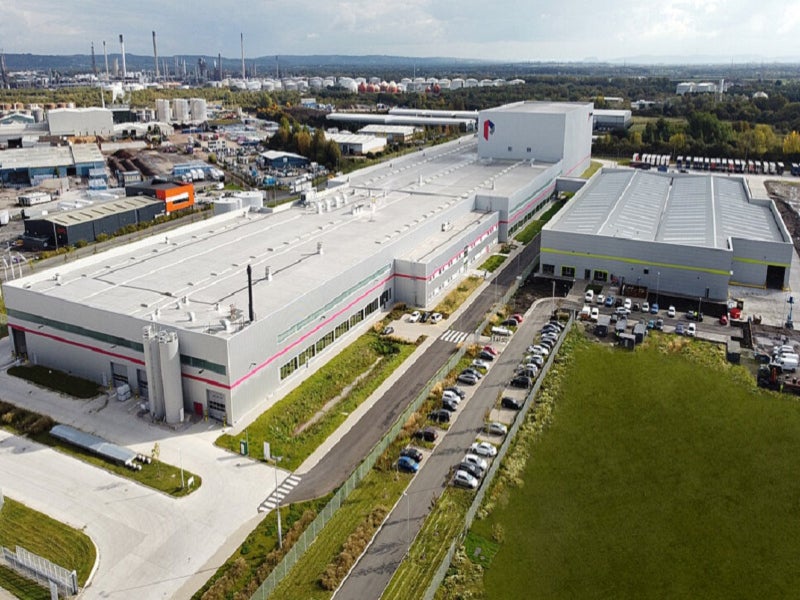 The expansion of Progroup's corrugated sheet-feeder plant in Ellesmere Port, UK was completed in October 2020. Credit:
German packaging company Progroup has expanded its corrugated sheet-feeder plant in Ellesmere Port, UK, by adding a packaging park to improve competitiveness.
In June 2020, Progroup and its partner, packaging manufacturer Krystals, announced a €22m ($24.74m) investment to expand the existing site. The expansion was completed in October 2020, adding 45 high-tech jobs.
Progroup's corrugated sheet-feeder plant set a world record by producing 572,064m² of corrugated board sheets in eight hours in July 2021, thanks to its customised, highly automated control system.
Location of the Progroup corrugated board plant in Ellesmere Port
The PW12 corrugated board manufacturing plant is located in Ellesmere Port in Cheshire, UK. It has an annual production capacity of 500 million square metres of corrugated sheet board.
Details of the Progroup corrugated board plant expansion
The new packaging park is spread across a 16,000m² area. It brings together Progroup's high-tech corrugated board plant and Krystals' expertise in packaging production.
Progroup and Krystals' investment in the expansion and the production facilities was intended to improve efficiency in the production processes. The expansion project interconnected the two companies' manufacturing and IT systems to deliver greater efficiency and flexibility.
"The Ellesmere Port plant replaced the old corrugator machine that was used by the company for more than ten years in support of its UK operations."
The facility is equipped with a corrugator from BHS Corrugated and can take orders within short notice. The plant has a working width of 3.35m and several developments, including the installation of an automated control system, which increased the operating speed to 400m per minute.
The site includes a fully automatic high-bay warehouse with more than 14,500 spaces for storage. The warehouse is installed with four automatic storage machines and retrieval machines.
Autonomous operations also allow the plant's staff to receive operation-related information on wearable devices. The plant's board dimension control system allows quality control to be automated and performs measurement checks while ensuring that corrugated board sheets are produced to high quality standards.
The coordination of the technical equipment, logistics management and proven warehousing is designed to allow reliable supply.
Details of the existing Ellesmere Port facility
The Ellesmere Port plant replaced the old corrugator machine, which Progroup had used to support its UK operations for more than ten years. The machine served production needs for 25 years, including its operations in Offenbach, Germany, and produced more than 3.5 million square metres of corrugated board across its entire lifespan.
The facility produces Next-Generation® corrugated board grades, which are manufactured completely from recovered paper. Next-Generation products have lower weight and offer the same strength as other corrugated board.
Progroup has invested more than £80m ($100.65m) in the PW12 corrugated sheet-feeder plant.
Sustainability features implemented by Progroup
Progroup has been operating a sustainable environmental management system at all its locations. Its corrugated sheet board plants are certified by the Forest Stewardship Council (FSC).
The company and Krystals are also implementing sustainability measures using technology to reduce resource consumption and carbon dioxide emissions.
The corrugated board produced at Progroup's facility is transported to Krystals via a bridge link. The move is expected to eliminate 1,800 truck journeys in 2021 and reduce emissions and noise pollution.
Progroup's product portfolio
Progroup's product portfolio includes single-wall and double-wall Next Board® corrugated boards. The facility's product offerings include boards of BNG, B, C and E varieties, as well as combinations of these.
Progroup's Next Generation product range also includes Next Fibre® containerboard and Next Box® packaging.
Marketing commentary on Progroup
Progroup manufactures corrugated board and containerboard. Based in Landau in Rhineland Palatinate, Germany, the company was founded in 1991 in Offenbach.
The company's network of production facilities in six Central European countries includes two paper factories, a logistics company, 11 corrugated sheet-feeder plants and a refuse-derived fuel (RDF) power station.
Progroup currently employs 1,293 people and its revenue stood at €881m ($954.4m) in 2020.