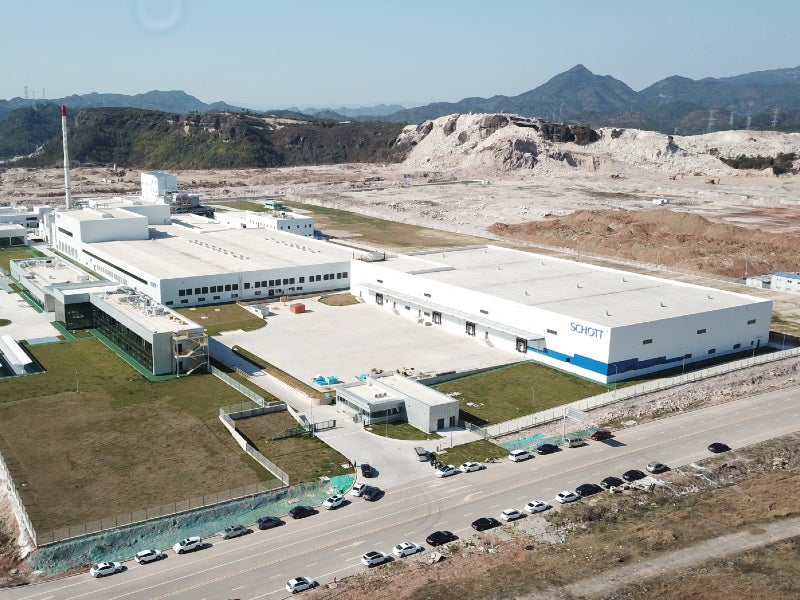 Construction on the Jinyun facility began in August 2019 and was completed in November 2020. Credit: SCHOTT AG.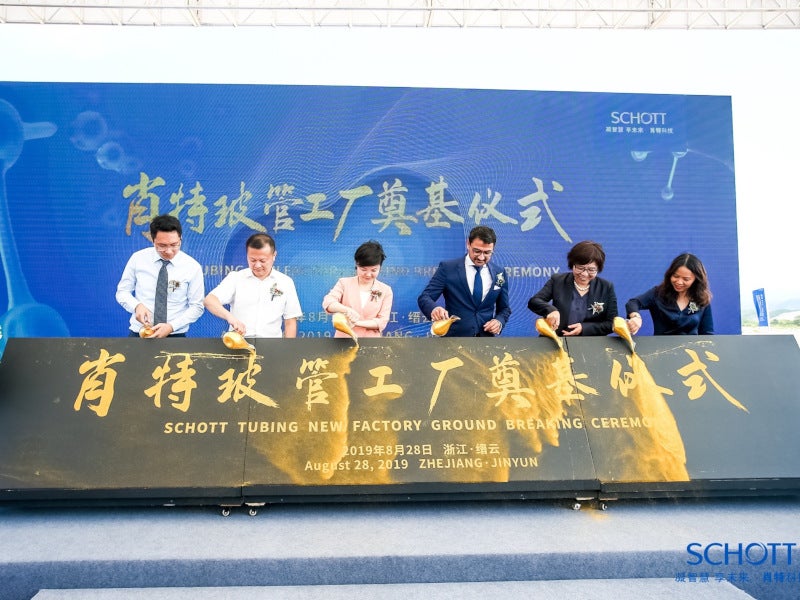 The ground-breaking for Schott's new facility was held in August 2019. Credit: SCHOTT AG.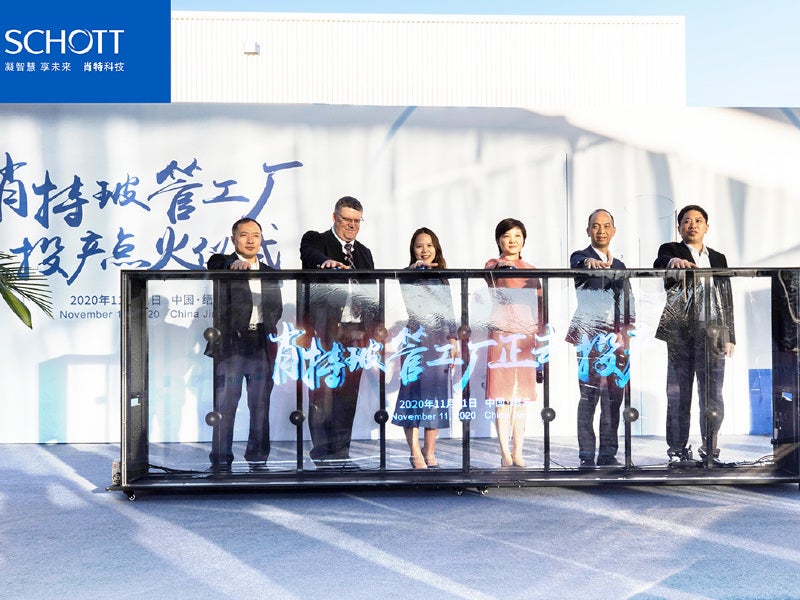 The facility can produce up to 20,000t of glass with further scope for expansion. Credit: SCHOTT AG.
German speciality glass and glass-ceramics manufacturer and supplier Schott built a new glass tubing production facility in Jinyun, China, adding 20,000t of pharmaceutical manufacturing capacity to the company.
The plant produces high-quality borosilicate glass tubing, which is a base material for manufacturing pharmaceutical packaging such as vials and syringes.
Plans for the development of the facility were announced in October 2018, while the ground-breaking ceremony was held in August 2019.
The facility became operational in November 2020, creating 300 new jobs. The company invested €60m ($69.8m) in the development of the facility as a part of its $1bn investment programme for the expansion of its global pharmaceutical business.
Schott's glass tubing production facility location and details
The new pharmaceutical glass tubing production facility is located in Jinyun County in the Zhejiang Province of China.
Schott's new pharmaceutical glass tubing production plant spans 113,000m² and manufactures Fiolax® glass tubing, which is a 5.0 middle borosilicate glass.
The facility is equipped with the company's most advanced production technology, consistent with its other global sites.
The manufacturing process uses Schott's perfeXion™ quality processing technology, which adheres to the company's global quality criteria and incorporates complete quality control for each tube.
Details of Fiolax glass tubing
Developed in 1911, the Fiolax Type I glass tube complies with all international pharmaceutical regulations. It is neutral with low alkali and high hydrolytic contents, making it resistant to chemicals.
The Fiolax glass tubes can be developed into various pharmaceutical containers such as vials, flasks, syringes, cartridges and ampoules. The tubes are manufactured using an optoelectric measuring system, which monitors the production of each tube to ensure high-quality products. The majority of COVID-19 vaccine projects rely on such glass-based packaging.
The glass tubing preserves the efficacy of medicine while its high hydrolytic resistance decreases contamination risks, leading to minimal packaging requirements.
Fiolax's amber variant effectively protects contents against UV radiation and short-wave visible light.
The tubes also offer optional glass-tube coating for protection against scratches, customised cutting of tube ends and packaging protection through Densopack® technology.
Details of Schott's perfeXion technology
Schott's perfeXion is a quality control technology used for transitioning each Fiolax tube from statistical quality control to complete inspection. The quality specifications of the original tube are conformed into the desired container shape, using online inspection devices and integrated data analysis.
The technology facilitates consistent wall thickness in the initial tube, enabling a definite hot-forming process in various sections of the container. The process provides tightly defined inner diameters of the original tube, which safeguards constant gliding force with an improved dosing accuracy.
The complete inspection of each glass tube results in reduced yield loss during primary packaging. PerfeXion was among the top 15 innovations at the Medicine Maker Innovation Awards in 2016.
Marketing commentary on Schott
Schott was founded by Otto Schott, Ernst Abbe and Carl Zeiss in Jena, Germany in 1884. Its parent company, Schott AG, is headquartered in Mainz, Germany, and is owned by the Carl Zeiss Foundation.
Schott serves several industries, including pharmaceuticals, automotive, electronics, life sciences and aviation. It has more than 16,500 employees at various sites and sales offices across 34 countries, with 5,900 located in Germany.