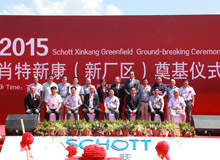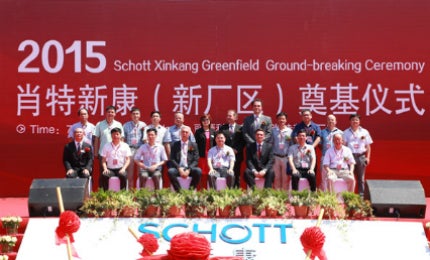 German manufacturer of speciality glass products Schott broke ground for the construction of a new pharmaceutical packaging plant in Jinyun County, Zhejiang province, China, in July 2015.
The new investment is in line with the company's growth strategy to expand its presence in Asia, especially in the Chinese pharmaceutical market.
The company already owns two production facilities in China, including an integrated production facility in Suzhou and the other in Jinyun that was developed in a joint venture with Xinkang.
Schott's current expansion plan also includes modernisation and expansion of its existing facilities in Suzhou. It will invest approximately €30m ($33m) in China in the next three years to increase its overall production capacity in the region by 50%.
Details of the pharmaceutical packaging facility in Jinyun
The new pharmaceutical packaging facility is being constructed at Schott Xinkang's site in Jinyun. Scheduled for commissioning in 2017, it will manufacture glass packaging for injectable drugs, including vials and ampoules.
China is predicted to become the world's biggest pharmaceutical market by 2050. Though low-priced glass pharmaceutical products are currently leading the market, anticipated rapid growth in the sector is expected to spur demand for high-quality pharmaceutical packaging.
Schott plans to focus on the high-quality packaging segment, which is anticipated to witness strong growth in the future.
Schott's glass packaging product details
Schott uses Fiolax glass tubing, a high-quality glass, as a base to manufacture all its packaging solutions. The glass offers a transparent and amber design with light-protection properties for sensitive pharmaceuticals products.
Glass vials range in sizes between 1ml and 100ml and include control injection, transparent and brown glass bottles, as well as screw and printing silicide coating bottles.
The glass ampoules are made from quality raw material and provide 100% leak-proof packaging. The product line includes ampoules between 1ml and 30ml made in accordance with ISO specifications.
Their break system comprises single-point score, colour ring and engraved ring. Different types of ampoules are produced that include straight type B, Funnel type C and D-type closure.
Details of the existing glass packaging plant
"China is predicted to become the world's biggest pharmaceutical market by 2050."
Commissioned in 2008, the glass pharmaceutical packaging plant in Suzhon is spread over an area of 2,500m². It was built in accordance with the highest precision standards and a strict process control system. It produces glass vials and ampoules and has an annual capacity of more than 100 million vials and ampoules.
Marketing commentary for Schott Pharmaceutical Packaging
Schott Pharmaceutical Packaging, with more than 500 production lines in 12 sites worldwide, is one of the leading suppliers of packaging for the pharmaceutical industry. It produces approximately seven billion a year of syringes, vials, ampoules, cartridges and special articles made of glass or polymer.
All production sites run by the company operate in a GMP environment and the products comply with international standards USP, EP and JP.