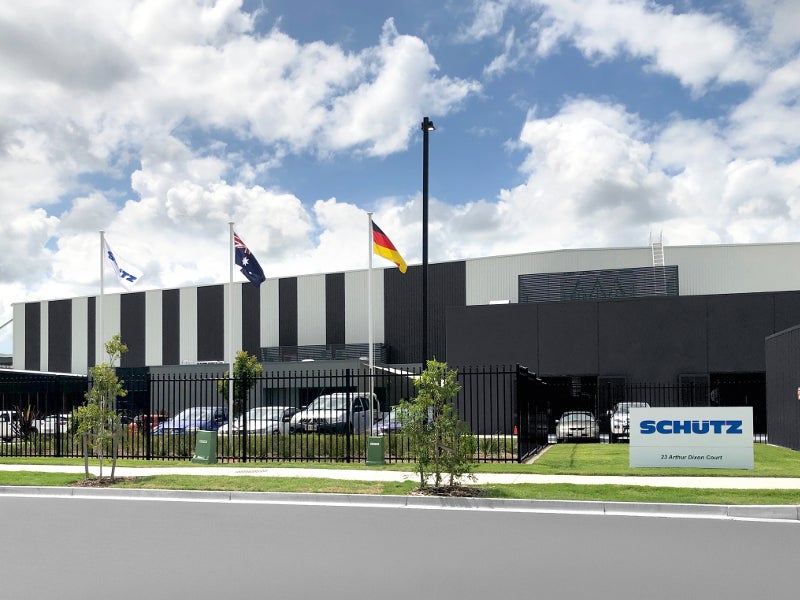 German packaging products and solutions provider Schütz opened its new intermediate bulk container (IBC) manufacturing facility in Yatala, Australia. The facility manufactures IBCs and performs IBC and drum reconditioning.
The IBC factory was officially inaugurated with an Aboriginal smoking ceremony held in November 2019.
Schütz Australia is one of the nation's biggest manufacturers of IBCs. The company also recycles and reconditions IBCs in a closed-loop system.
The new IBC plant will enable Schütz Australia to quickly supply a large quantity of products to its domestic and international customers.
Schütz packaging facility location
Schütz's new production plant is located in Arthur Dixon Court in Yatala, which is approximately 45km south of Brisbane in Queensland, Australia.
The site is in close proximity to the major industries in the Brisbane region and Gold Coast City. It offers excellent infrastructure, with easy access to the national road and rail transport networks.
Located on the south-east coast, the new manufacturing hub will offer sustainable packaging services to clients in Queensland and New South Wales. This will result in increased flexibility for deliveries.
The Schütz local sales office and administration departments are also located at the Yatala site.
Schütz intermediate bulk container facility details
The new state-of-the-art facility covers approximately 19,000m² area and is used for the manufacturing of IBCs, as well as the reconditioning of drums and IBCs. The site also houses storage and logistics facilities.
All of its production lines and facilities comply with the highest environmental, safety and quality standards.
The Yatala facility began the reconditioning of IBCs in January 2019, while the production of new containers on the Ecobulk MX production line started in April 2019.
The plant helps optimise supply chain management to customers by maintaining ecological and economical balance.
It also uses shorter routes for the delivery of new IBCs and the collection of empty containers, saving time and reducing costs and CO2 emissions.
Reconditioning of IBCs at Schütz's Yatala plant
The Schütz IBC plant offers free collection and reconditioning of the empty Ecobulk containers under specific conditions to meet global standards. Empty container collection can be arranged through a mobile app, email, by phone or fax.
"Schütz Australia is one of the nation's biggest manufacturers of IBCs."
All components of the Ecobulk containers, including inner bottles, valves, screw caps and fittings, are replaced with original Schütz components, creating a new container called Recobulk IBC.
Recobulk IBC maintains quality and safety specifications similar to those of Ecobulk. The reconditioning of an old container saves 100kg of CO2 when compared to the production of a new one.
Marketing commentary on Schütz
Schütz is a leading multinational industrial packaging products and solutions provider with a diverse portfolio of IBCs and drums, including the Ecobulk and Recobulk ranges of IBCs and Schütz F1 and Schütz G2 drums.
Approved by the United Nations (UN), all original components of Schütz IBCs are of high quality and standards. Ecobulk and Recobulk IBCs are also manufactured in compliance with regulatory and quality standards.
Schütz operates its own global network for IBC reconditioning and provides standard quality services. The process of returning, collecting and sustainably reconditioning empty IBCs is managed through Schütz's ticket service.
Recobulk is covered by a steel grid and is approved by the UN with the additional validity of five years. It can be recycled only on certified production lines using superior environmental, safety and resource-friendly processes.