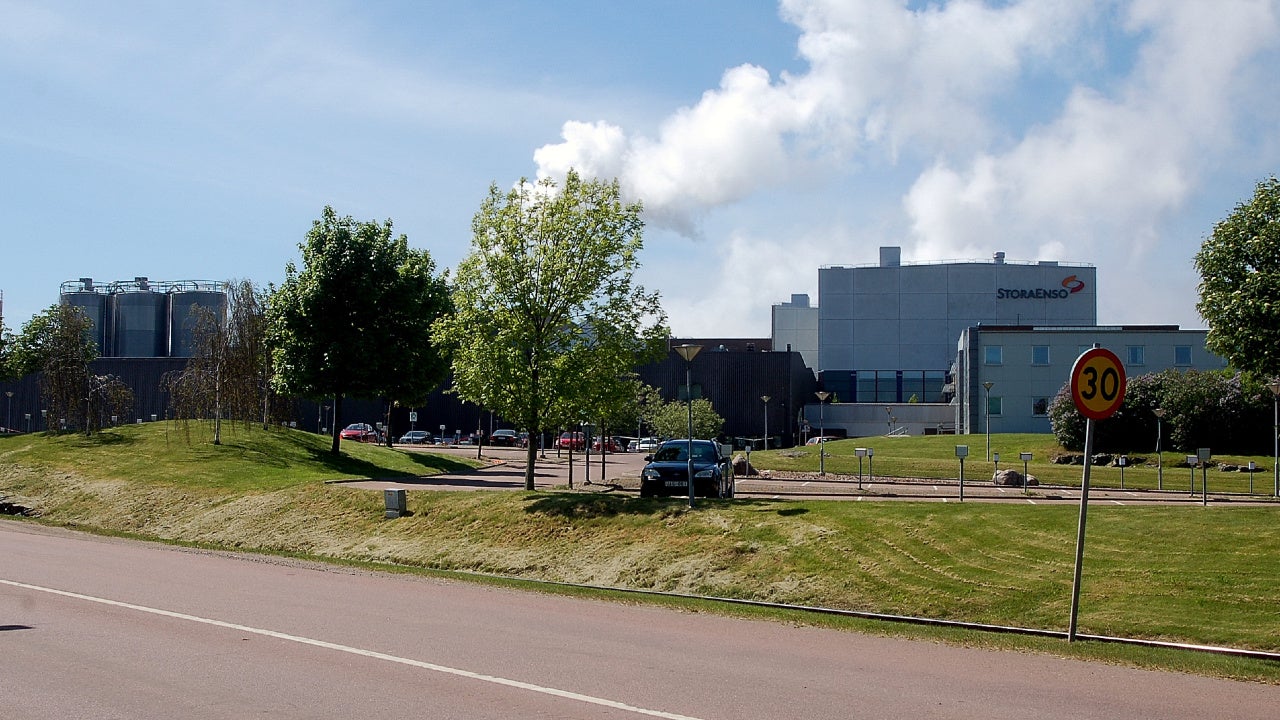 Finnish paper and pulp manufacturer Stora Enso announced plans to expand its packaging board production facility in Skoghall, Sweden, in October 2021. The expansion will increase the annual board production capacity of the facility by approximately 100,000t.
Anticipated to be completed in the second half of 2023, the expansion will support Stora Enso in growing its business across different attractive end-use packaging segments such as liquid packaging board and coated unbleached kraft (CUK). It will enable the company to serve its customers globally and establish itself as a highly cost-competitive eco-friendly, renewable packaging materials provider.
The company has committed to invest €97m ($112.9m) in the expansion of its Skoghall site, upon completion of a feasibility study. The environmental permit application process for the facility is currently being reviewed by the regulatory authorities.
Details of the existing facility and expansion
Stora Enso's packaging board facility in Sweden is located at Bruksgatan, 66330 Skoghall, Hammaro Municipality in Varmland County.
Established in 1917, Stora Enso's Skoghall facility is a modern, integrated production site for manufacturing eco-friendly packaging materials. It has an annual capacity of 875,000t of consumer packaging board, 657,000t of pulp and 120,000t of polymer coating. The site has a workforce of approximately 700.
The plant produces consumer packaging boards for liquid packaging and dry food packaging and maintains high standards of hygiene and product safety.
The proposed expansion will identify bottlenecks in the manufacturing process of one of its existing production lines and optimise its production capacities and efficiencies through the installation of modern equipment.
The project will be executed in two stages, with scheduled maintenance stops.
Stora Enso's packaging product portfolio
Stora Enso offers a range of strong and lightweight paperboards for a variety of packaging applications such as liquid packaging, folding cartons, paperboards for food service, barrier boards to replace plastic in packaging, containerboard, beverage multipacks and tobacco packaging.
The company's PureFiber™ offering includes a range of formed fibre products to help customers in replacing plastic. It is used in single-use take-away items such as food bowls, clamshells and drink lids, trays, inserts to hold food and non-food products, as well as herbal pots and trays for agriculture.
PureFiber™ products can be recycled or composted after their intended use. Furthermore, it has a 75% lesser carbon footprint compared to alternative packaging materials such as plastic or bagasse.
The liquid packaging solution Natura™ is durable and food-safe with lower package weight due to multi-layer construction. It is made from virgin fibre with a high standard for odour and taste neutrality, thus making it an ideal package for sensitive food products.
Ensocoat™ is a solid bleached sulphate (SBS) board that is often used in creating luxury packaging. Its multi-layer fibre structure brings stiffness and strength while its smooth and icy-white surface is very much tolerant of demanding finishing treatments such as embossing and foil stamping.
Performa™ is a product range with topside coating along with reverse sides with or without coating. It is used in folding cartons for pharmaceuticals, cosmetics and luxury packaging.
Some of the other packaging products offered by the company include paper bags, insulated boxes, rigid boxes and fibre mats.
Services offered by Stora Enso
Stora Enso offers its services to support businesses searching for viable packaging solutions. It has established 11 design studios worldwide to offer design workshops to its clients. The tailored workshops help businesses in responding to new customer needs. The clients bring their product knowledge and Stora offers research and design competence needed to co-create the best possible packaging.
Through Box Inc, a business-to-business marketplace for corrugated packaging, Stora Enso allows corrugated packaging business owners to request, quote, receive and compare quotes and select a supplier and place an order free of charge online. The service is currently available in Germany.
CarbonZero is a carbon offsetting service provided by the company to help businesses in reducing their carbon footprint and support them in reaching climate goals.