Wolf Blass Winery Packaging Facility, Barossa Valley
The well-known Wolf Blass winery is owned by Treasury Wine Estates, a stand-alone company de-merged from the Foster's Group in May 2011.
Construction Started
October 2004
Project Type
Purpose-built packaging facility for Wolf Blass winery
Location
Barossa Valley, South Australia
Expand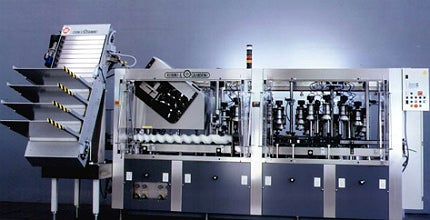 The well-known Wolf Blass winery is owned by Treasury Wine Estates, a stand-alone company de-merged from the Foster's Group in May 2011. In October in 2004, the former owner of the winery decided to expand its production capacity by developing a purpose-built bottling and warehousing operation, adjacent to the Wolf Blass winery in the Barossa Valley, South Australia.
The $52m project included a high-speed bottling facility, which was completed in June 2006 and came online shortly afterwards following commissioning and test runs. A range of companies were asked to supply components for the facility lines, including Procomac, ACMI, Kosme and Robino & Galandrino.
The new facility is now able to process ten million cases per annum and forms part of the supply chain efficiency initiatives which Beringer Blass Wine Estates (formerly the wine division of Foster's and now owned by Treasury Wine Estates) had undertaken. The new facility consolidated the Wolf Blass winery and Beringer Blass as a major player in Australian wine production and packaging.
In February 2009, FGL announced its decision to close three wineries in Australia and California. It had placed 31 properties on sale. However, the Barossa packaging facility was not included in that list.
In May 2009, FGL began bottling its Green Label wine at the Wolf Blass wine packaging facility.
The Green Label brand of wines bottled at the wine packaging facility is the first wine to produce 29% fewer greenhouse gas emissions. Wolf Blass has used Enviro Labels and other packaging material which can be 100% recycled.
Details of South Australia's wine packaging plant
The new 44,000 square metre packaging plant is built on a 49ha site on the Sturt Highway at Nuriootpa in the Barossa Valley, adjacent to the Wolf Blass winery. The new facility provides a flexible packaging platform and draws on the existing industry best practices in packaging and warehousing cost structure.
"Wolf Blass has used Enviro Labels and other packaging material which can be 100% recycled."
The new facility has a high-speed bottling capability for packaging still table wines and sparkling wines. The plant also incorporates an integrated, semi-automated warehousing facility with a capacity for 20,000 pallets of finished goods and an automated warehouse.
A range of supply chain technologies is used, along with automation for storage and retrieval systems, case picking and bottling line changeovers. Robotic equipment is capable of packaging multipacks, mini-packs and other configurations for both the Australian and international markets. Temperature controlled storage is also available at the facility for bottle ageing and museum stock.
In January 2012, Treasury Wine Estates commenced stage one of a three phase upgrade at its Barossa Packaging Facility. The project, which was undertaken by Fit & Forget in partnership with LVX Group and Clevertronics, involved up-gradation of the plant's emergency evacuation lighting system. The three phase project was completed in December 2012.
Machinery at the purpose-built packaging facility
The packaging lines were installed by Costa Enterprises, based in Adelaide. The facility was completed and in operation by June 2006.
The Wolf Blass winery packaging facility is equipped with a monoblock rinser-filler-capper from Procomac, robotic palletising and depalletising systems from ACMI, a labeller from Kosme and capsulers and sparkling wire hooders from Robino & Galandrino.
The Robino & Galandrino Spa Poker 2Z 24/30 capsulers are suitable for still wines and can dispense and close capsules at speeds of 30,000 bottles an hour. The machine is a monoblock composed of two in-line dispensing units, a thermo-shrinking head turret for PVC capsules and a spinning head turret for tin or polylaminate capsules. The line has been conceived so that it can be easily retrofitted with the other two machines if the Wolf Blass line starts to process sparkling wines.
The Rekord 20000/16 wire hooder is a multihead, rotary wire hooder with 16 twisting heads and the capacity to produces 4,000 to 25,000 bottles each hour. The same line is used by Beringer Blass to process sparkling wines at a speed up to 18,000 bottles an hour.
The Zenith Z 2/32 OTTICO sparkling wine capper is composed of a single dispensing unit, a 16-head rotary turret for capsule orienting and pleating and a second 16-head rotary turret for capsule smoothing.
Swisslog provided the automated warehouse, with Schaefer supplying racking and Accalon the crane. The ASRS racking has approximately 10,000 pallet locations with a further 7,000 in conventional racking.
Background to Wolf Blass's project
The new facility has significantly improved flexibility in production scheduling and allows lower production costs through the use of advanced technology, reduced freight distances and stock carrying costs. By the start of 2007 the new facility replaced the capacity of Beringer Blass's Merbein and Smythesdale operations in Victoria.
The initial capacity of the facility is ten million cases per annum, which can be scaled up to its potential capacity of more than 24 million cases per annum in the later stages.
Benefits of the new Wolf Blass winery
Beringer Blass Wines made the decision to develop this new packaging and warehousing facility to increase the scale, capacity and efficiency of the Wolf Blass winery. In addition to providing a highly efficient, low-cost packaging facility, the configuration of the new facility has contributed to the group's revenue and earnings generation initiatives.
The packaging line allows greater innovation in packaging, enabling Beringer Blass to have greater flexibility in developing pack types, sizes and wrapping. Robotic palletising of products also allows innovative pack types and different configurations. While the new faster line speed and capacity allows shorter lead times.
Advantages of plastic bottles and use of PET
In March 2007, Wolf Blass Wines launched Bilyara Reserve Chardonnay, Cabernet Sauvignon, Sauvignon Blanc and Merlot (a new range of wines) in shatterproof, environmentally friendly 750ml PET (polyethylene terephthalate) bottles. The bottles have been launched for the Canadian market and are expected to penetrate to other areas of the market in due course.
"In January 2012, Treasury Wine Estates commenced stage one of a three phase upgrade at its Barossa Packaging Facility."
All four Bilyara Reserve varieties are made from grapes grown in South Australia's premium vineyards, including the Barossa Valley.
The lightweight PET bottle holds the same amount of wine as a standard 750ml wine bottle, yet it is designed to be 33% shorter for easier storage.
The PET wine bottle is fully recyclable and weighs just 54g before filling (85% lighter and thus cheaper to transport). With the reduction in weight, more wine can be transported per load than with glass bottles, so the net environmental benefit from the reduction of fuels used in shipping and trucking is significant.
Wolf Blass Green Label wines are available in Wolf Blass Green Label Crisp Dry White 2008 and Wolf Blass Green Label Cabernet Shiraz 2008. Green Label wine is packed in a 750ml PET wine bottle which is 90% lighter, unbreakable and can be fully recycled.
Scott Oliver, president of Wolf Blass Wines Canada, believes the new bottles deliver the aesthetic qualities of glass making.
---
Related content
---
The Amcor Glass Bottle Manufacturing plant, located in Gawler in South Australia is just 15 minutes away from the wine region of the Barossa Valley.
Coopers Brewery, based in Regency Park, Adelaide, Australia and one of the world's market leaders in the beverage industry, installed a new bottle filler in August 2005 as part of its A$7m expansion programme.
James Boag & Son of Launceston, Tasmania, is the fourth largest brewer in Australia.
---