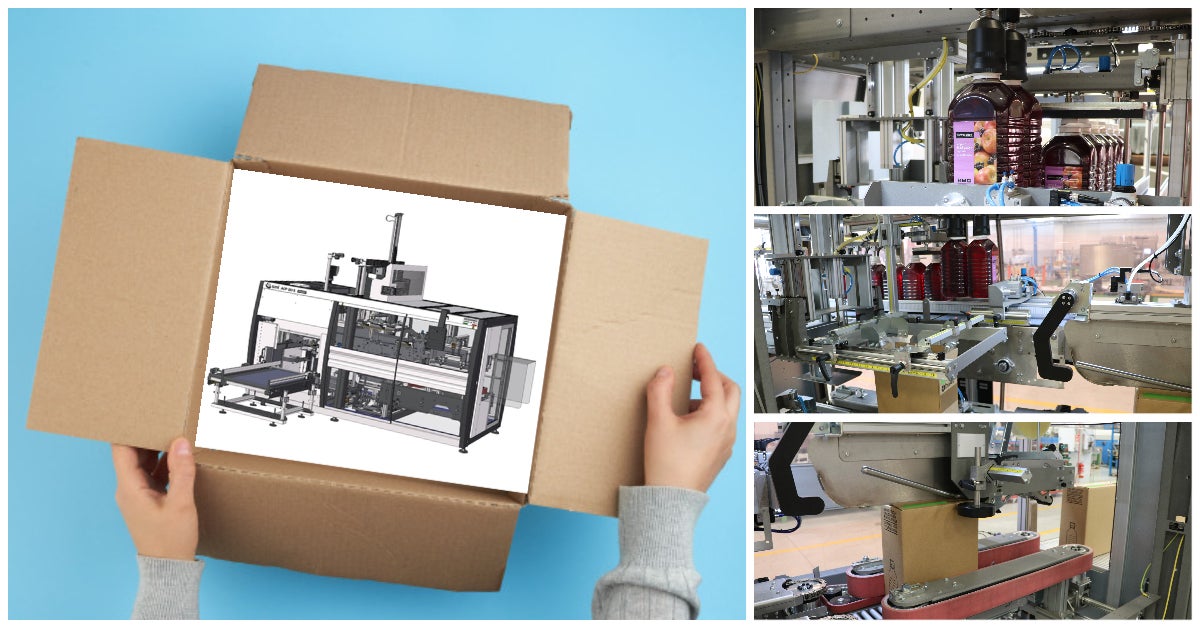 The latest investments in R&D made by SMI have led to the development of a new range of case packers suitable for manufacturing RSC boxes: ACP packers.
With the introduction of this series, the Italian-based company has given its customers the possibility to choose between American cardboard cases and wrap-around boxes: a subjective choice that depends on the product to be packaged, commercial strategies of the manufacturing company, logistics and distribution needs, palletizing schemes, speed of the production line, marketing objectives etc.
Compact
ACP packers are compact solutions characterised by a monobloc structure that combines all the machine functions: product separation, loose product insertion with top loading system, carton magazine and case sealing. The packaging process is ergonomic and the loading of the pre-folded blanks is easy, thanks to the cardboard magazine that is placed outside the machine.
The packaging process is alternate (stop & go) through a pick & place system, capable of making RSC packs at the maximum speed of 20 packs per minute (depending on the format).
Flexible
"Not only can ACP packers pack a wide range of products, they can also quickly go from one format to another and from one product to another."
These packaging solutions stand out for their flexibility: not only can ACP packers pack a wide range of products, such as bags and packs of pasta, rice and coffee, shampoo, liquid soap, detergents and briks (tea, juices), they can also quickly go from one format to another and from one product to another. This represents a great advantage for meeting the requirements of a market that is in continuous change and that has to keep up with current consumers' preferences.
Another element that increases the flexibility level of ACP packers is given by the possibility to choose between glue or tape box sealing. Pick & place packers are in fact available in two models: G models (for hot melt glue packaging) and S models (for adhesive tape packaging). The model with hot melt glue sealing is equipped with a lower glue unit and a double spray upper glue unit, which ensures excellent pack sealing. At the machine outfeed, special side upper flap-bends operated by a semi-rotary cylinder keep the walls of the newly made box pressed.
Easy to use
The attention SMI designers pay to customers' needs is also shown by the user-friendliness of ACP packers. These machines are easy to control: they are equipped with a POSYC® fixed operator panel that allows even less expert operators to easily and effectively run the packer, thanks to an intuitive interface, a touch screen display, diagnostic functions and real-time technical support. Another aspect that makes these machines user-friendly is their easy maintenance. This is guaranteed by slightly rounded safety doors and brushless motors oriented outwards.
Safe
Operator safety goes hand in hand with product safety: during the machine running, the product is protected from hits or shocks; as a consequence, ACP packers are also suitable for delicate and exclusive products such as wines, sparkling wines and liqueurs.
This is possible thanks to resistant boxes, in which the product to be packed can be stacked.
Technologically advanced
And, last but not least, like all SMI solutions, ACP packers are equipped with MotorNet System® automation and control technology based on Sercos fieldbus, that makes the plant fully compliant with Industry 4.0 and Internet of Things (IoT) principles.