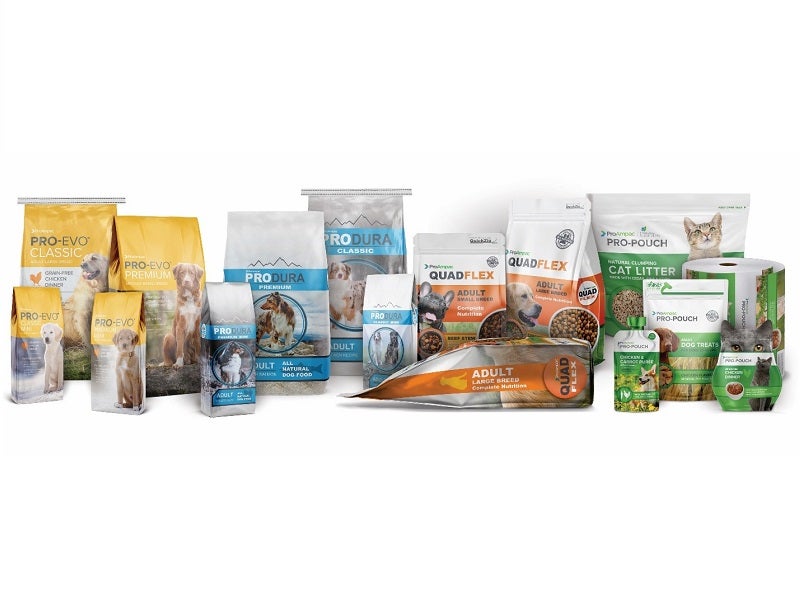 Versatile packaging solutions provider ProAmpac joined pet food industry convention Petfood Forum 2019 in Kansas City, Missouri, to showcase its comprehensive portfolio of flexible pet food packaging products. Petfood Forum is an annual executive-level event for the global pet food industry, which provides the opportunity for professionals like ProAmpac to exhibit their products and generate new business.
The products displayed by the company included two new innovative ranges: recyclable and sustainable products, which are part of the company's ProActive Sustainability initiative, and the new range of Signature Surfaces tactile packaging.
ProAmpac's ProActive Sustainability initiative aims to reduce the energy use and the environmental impact of its operations by prioritising packaging which is recyclable, compostable, renewable and/or post-consumer recycled (PRCR).
Meanwhile, Signature Surfaces tactile packaging is formulated to have different textures for different intended uses. For example, Paper Touch is ideal for natural products while Soft Touch's velvety surface is perfect for premium goods.
ProAmpac chief commercial officer Adam Grose said: "With our pets valued as members of the family and consumers moving toward premium-priced pet foods and pet-care products, we've developed an outstanding packaging portfolio that reflects these trends."
Several recyclable packages are available among ProAmpac's pet portfolio
Part of the line-up were the PRO-EVO multiwall bags. PRO-EVO comes in Classic and Premium versions, constructed from fibre-based renewable resources and paper/poly hybrid packaging respectively. Both can support 13-60lbs of product, and are ideal for dry pet food, bird seed and animal nutrition.
The Premium version comes with a high-gloss laminate and square bottom design for maximum branding, while the resilient film offers enhanced product protection. PRO-EVO can also be ordered in a mini version for smaller portions and portability, with a 5oz-13lb capacity, perfect for dry pet food and cat litter.
ProAmpac was also able to exhibit the PRO-DURA range of woven polypropylene bags, which offer excellent durability and flexibility for dry pet food packaging. These likewise come in Classic, Premium and Mini versions, and are durable and tear resistant.
The Premium version can utilise both woven polypropylene or multiwall filling equipment. While Classic and Premium can support a product capacity of 11-50lbs, the Mini version is designed to support 3-10lbs.
ProAmpac's flexible pet food packaging also includes pouches
ProAmpac also took the time to exhibit QuadFlex, a range of premium quad-seal laminate pouches and bags in a variety of sizes, intended to support 3-40lbs of product.
The QuadFlex pouches are available with flat, pinch and fold-over bottoms, with a variety of convenient, easy-open and re-sealable options to optimise product accessibility. Ideal for dry pet food, treats, animal feed and cat litter, the barrier strength of the pouches can be customised to provide dimensional stability and protection throughout the entire supply chain.
ProAmpac also exhibited pouches suitable for wet pet food in their PRO-POUCH range. Designed to stand up and stand out on store shelves, these pouches can be ordered in custom shapes and sizes to boost each customer's brand. This includes stand-up or flat options, clear or foil exteriors, with the option for multiple compartments and various finishes.
The PRO-POUCH range also includes the ProActive Recyclable Pouch, made from coextruded HDPE, and the PRO-Pouch Rollstock film, specially designed to run on high-speed machines and get products out the door faster.
"We see ourselves as companions in packaging," said Grose. "We are supplementing our portfolio of flexible packaging products with our commitment to Collaborative Innovation in which ProAmpac developers work alongside our customers' teams to accelerate new departures in packaging."