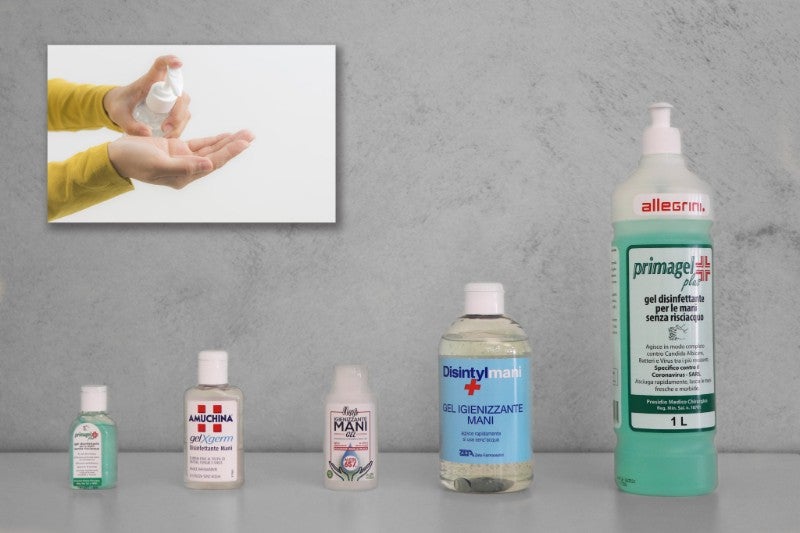 The increasing awareness of hand hygiene, which has gained a key role in the fight against Covid-19, has determined a significant growth in demand for hand sanitisers. To get an idea of how this market has recently grown and is expected to grow, it is enough to consider the figures provided by Grand View Research. In 2019, the global hand sanitiser market size value was $2.7bn. In 2020, it is expected to reach $3.3bn and to grow at a compound annual growth rate of 22.6% from 2020 to 2027.
The most common packaging material for hand sanitisers and personal hygiene detergents is PET, a material that has several advantages. First of all, it is characterised by an unrivalled strength-to-weight ratio, which leads to benefits for transportation. Moreover, PET containers do not break or shatter. This has advantages in terms of safety, especially compared to glass.
Another advantage represented by PET is low cost. Not only is PET cheap, it is also easily shaped, and for this reason PET can become a promotional tool, allowing companies to create captivating packaging designs for promoting their products.
SMI: from the design to the production of PET containers
Thanks to a team of highly specialised engineers and cutting-edge tools, SMI designs, develops and virtually prototypes a wide range of packaging solutions in PET, according to the customer's specific requirements.
In particular, SMI relies on an advanced 3D CAD department for the design and graphic processing of bottles. After an accurate analysis of the customer's requests, the container idea is developed and turned into a detailed project.
At present, SMI engineers have designed around 1,700 containers, with different shapes both simple and complex.
EBS K: a compact solution for blowing PET containers
In order to manufacture PET containers on a large scale at low costs, SMI provides stretch-blow moulding solutions. The company's latest development is represented by its EBS K fully electronic stretch-blow moulders: ultra-compact solutions that can meet production capacities up to 9,200 bottles per hour and are available in two, three and four-cavity versions.
The compactness for which this medicine stands out is given by the integration of the preform heating section (tunnel) with the stretch-blow moulding section (carousel) into a single module, which makes the system suitable for installation even on small bottling lines.
The structure that contains the tunnel and the carousel is equipped with slightly rounded safety doors, providing more space inside the machine to perform cleaning and maintenance operations easily and safely.
"EBS K fully electronic stretch-blow moulders are ultra-compact solutions that can meet production capacities up to 9,200 bottles per hour."
The carousel of the stretch-blow moulder is equipped with motorised stretch rods controlled by electronic drives and do not require mechanical cams. This innovative solution ensures precise control of the stretch rod path and position, as well as significant energy savings.
The stretch-blow moulding system uses high-performance low dead volume valves that reduce pre-blowing and blowing times, thereby improving the efficiency and quality of the bottles produced.
The mechanical group of the mould is equipped with its own motorisation, which ensures the utmost precision for the up / down motion of the mould bottom and the opening / closing of the mould-holder unit. The integration of this innovative solution with the electronic stretch rod system makes the SMI ERGON EBS K stretch-blow moulder a 'cam-free' system, with significant advantages in terms of greater kinetic accuracy, less maintenance, less vibration, less noise and increased system life.
The machinery is managed by the Motornet System® for automation and control, which ensures constant maintenance of optimum processing parameters throughout the entire production cycle and the direct modification of machine settings, thereby simplifying the format changeover operations.
ECOBLOC® K system: the way to maximise EBS K benefits
The function of stretch-blow moulding performed by the EBS K can be combined with the functions of filling and capping into a single ultra-compact solution: ECOBLOC® K.
The integration of the three main operations into a single ultra-compact block makes it possible to achieve optimum performance at reduced costs for the production, filling and capping of rigid containers of up to three litres.
This solution does not require connecting conveyors between the stretch-blow moulder and the filler, and in most cases, not even a rinser, with advantages in terms of space and cost savings. The ECOBLOC® K system features a modular, seamless frame, equipped with access doors made of highly resistant and durable tempered glass.
This electronic solution is equipped with transmission systems that use brushless motors with an integrated digital servo-drive. Furthermore, the automation and control system, equipped with a very simple and intuitive human-machine interface, permits the entire block operation by a single line operator.