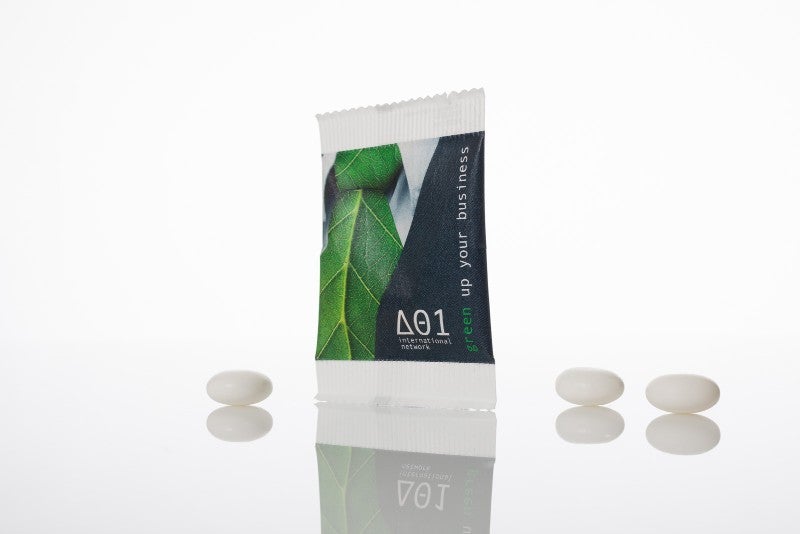 To pave the way for an alternative packaging solution to plastic, the world-renowned Koehler Paper Group has entered the market of flexible packaging paper. A €300m investment in a new production line, consisting of a paper and coating machine, makes the German family company an innovative solution partner for the packaging industry.
Packaging-gateway.com interviewed Alexander Rauer, product manager of Flexible Packaging Paper at Koehler.
What are your company's most recent innovations in heat-sealable packaging paper?
Alexander Rauer: That would be our Koehler NexPlus® Seal, a heat-sealable paper with a mineral oil barrier and a grammage of 45gsm to 80gsm. We developed it especially for use in food packaging, either as secondary packaging, or primary packaging, where no additional barriers are required. So it's ideally suited for foods like pasta and rice. Koehler NexPlus® Seal offers mechanical product protection, thanks to its special surface, and also has a barrier against MOSH / MOAH (mineral oil vapour deposits from printing inks). We are quite proud of this development, also because it proves that Koehler really is serious about bringing to market sustainable packaging solutions for every area of application. That's also why it's made from 100% virgin fibre pulp.
How will the packaging industry market for heat-sealable paper develop in the short and medium term?
We anticipate very strong growth, and we are well prepared for that. End consumers around the globe are highly sensitised to packaging issues. We can all call to mind those images of plastic floating around in the oceans. The packaging industry has to react here, because the big brands expect it of them. And it's not just them. A study has revealed that more than 60% of European consumers are willing to pay more for food if it's packed using less plastic.
Thanks to our innovations and considerable investments, we are now positioned as a solution partner on the packaging industry side. Our special paper is one part of the move towards alternatives to plastic. The shift in consumer thinking will definitely continue and intensify. We're producing something that is deeply rooted in the collective consciousness as being sustainable and environmentally friendly: Paper! And that's exactly the right answer to this change process.
Koehler has set itself the goal of developing sustainable packaging solutions for all areas of industry. How does Koehler NexPlus® Seal fit into this strategy?
This product suits our aims perfectly. There are a whole range of possible uses for barrier paper in both the food and non-food sectors. For example, a barrier paper like Koehler NexPlus® Seal can easily replace conventional film packaging as secondary packaging. But that's not all, we are researching further barriers in the Green Coating Collaboration, the research partnership with the Technical University (TU) of Darmstadt. They are based on renewable resources and are not in conflict with food sources.
With Koehler NexPlus® paper, Koehler is working on a whole range of possible barriers to underline the vision to bring better and more sustainable packaging solutions for all industries to market. That provides barriers to oxygen, water vapour, and grease, aroma barriers and MOSH / MOAH barriers, as well as UV protection are possible.
What are the international trends for using heat-sealable paper in the packaging industry?
The industry is primarily looking for solutions that can be used wherever it makes sense to replace plastic film in packaging. However, it's essential that the packaging machines can cope with the change from one material to another without huge outlay or frictional losses. Koehler NexPlus® Seal meets those requirements thanks to its excellent properties in terms of strength and runability. Its outstanding ink and lacquer hold out means it particularly suited to rotogravure and flexo printing. We see our mission as being a solution partner. That means: We have developed our paper so that it can be above all smoothly integrated into further processing.
What are your customers' key considerations when choosing your products?
For all of them, the basic question is whether and which products really need sealing in plastic film and whether to use an HFFS or a VFFS process for that. Our customers are also very aware of where barrier properties are indispensable. This is precisely where we come in, with Koehler NexPlus® Seal. With it, we deliver barrier properties and a product that can be 100% recycled in the paper cycle, which answers the requirement for the greatest possible sustainability. Furthermore, and this has less to do with the technical questions, our customers also naturally check whether their own brand stands for sustainability at all.