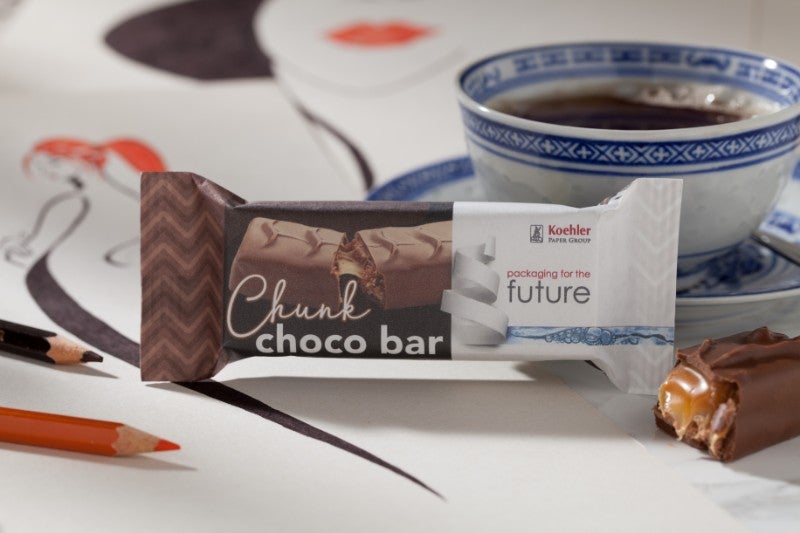 The Koehler Paper Group is a company with a long tradition in the German paper industry and a global reputation. With an investment of €300m in a new production line, Koehler is now also a supplier of flexible packaging paper. More than 1,900 employees working at four locations in Germany contribute towards making Koehler the market leader in various specialty paper segments.
An interview with Eckhard Kallies, Director Division Flexible Packaging Paper and Jens Kriete, Sustainability Manager at Koehler.
What are the latest developments at Koehler with regard to packaging paper with barrier properties?
Eckhard Kallies: We have extended our range for the food sector, which previously consisted exclusively of heat-sealable paper, with one that can be cold-sealed. Koehler NexPlus® Advanced is a barrier paper whose functional layer provides protection against oxygen and mineral oil. It is also resistant to grease. As it can be processed with a cold seal adhesive, it is therefore perfect for primary and secondary packaging for temperature-sensitive foods, such as chocolate bars, food bars and confectionery. It can of course also be used in the non-food sector, where such barriers are necessary.
With Koehler NexPlus® Multi, we also have another paper solution for heat sealing. The name says it all, as we have designed Koehler NexPlus® Multi to be a real all-rounder. It provides barriers against oxygen, water vapour and grease in all areas where there is a need for barriers in the packaging of consumer goods and dry, free-flowing food.
With Koehler NexPlus® Performance, Koehler now has another completely new heat-sealable paper, whose functional layer provides a barrier against water vapour and mineral oil. As it is also resistant to grease, it is particularly suitable for packaging dry products in powder form such as cocoa or pudding powder. This paper is, however, also suitable for the non-food sector, wherever a water vapour barrier is required, for example, when packaging dishwasher tabs or detergent powder.
How do you assess the short and medium-term market for barrier paper in the packaging industry?
We see strong demand, because the market for innovative and sustainable packaging solutions is booming. The branded companies are consistently aligning their products with the needs of end consumers when it comes to sustainable packaging solutions. Furthermore, the demand for packaging is growing strongly in the emerging markets, and in Europe the Council of the European Union has issued ambitious guidelines regarding recycling quotas for packaging.
We at Koehler are taking these very dynamic market developments into consideration. With our new production line at the Kehl mill, we are well equipped to deal with these challenges. And in particular, for ensuring we are viewed as a real solution provider by our customers. We have driven innovation with a great deal of financial strength, idealism, and expertise built up over several decades. Our new paper is not simply 'next generation', it is truly disruptive. Demand has shown us that they are well on their way and are really penetrating the market.
Aren't the latest regulatory developments helping?
Jens Kriete: It depends, some are, but some are not. The German packaging ordinance from the early 90s defines a packaging monomaterial if it consists of 95% or more of the same material. I am sure that was done in good intention and the legislators were faced with the question of what is a packaging compound and what is not? There was liquid packaging board and packaging board (for example, for frozen food) with a one-sided PE laminate. So, born out of necessity to have something to be able to distinguish, a threshold of 5% was set.
For all packaging producers that were close to this, they increased the weight of the paper board to achieve the 5%, a heavier packaging which is counterproductive. Here we have a potentially wrong incentive and the 5% is also in the latest revision still. For the recycled paper manufacturer, it is less a question of a percentage of a non-paper ingredient in the waste, what counts is if I can separate the materials from each other without clogging up my system, and that should be reflected by legislation.
What is worse is the definition of a polymer in the Single-Use-Plastic Directive. Certain sorts of packaging paper that are considered as a monomaterial could fall under this directive. Paper substances such as modified starch or latex binders one could regard as plastic by the definition of this directive. Here we have a spaghetti situation that needs to be untangled.
How do you plan to convince that paper is the truly more sustainable packaging solution?
People inherently favour natural material such as paper. Plastic packaging is often modified to achieve a paper touch and feel, for a reason. Ask people what is better, paper or plastic? Our road is already paved. To become mainstream, however, we need to match the requirements of a successful packaging: safe, hygienic, protects its content sufficiently, convenient in its use and competitively priced.
"We see strong demand, because the market for innovative and sustainable packaging solutions is booming."
Some are still insisting that a deposit system is the right way to go. It might be in certain cases. I doubt, however, that this will grow back significantly. The breweries stepped away from the standard because of branding. Heavy, inflexible, transport and cleansing are also coming with a significant footprint.
Eventually, LCAs are the tool of choice, but also there we need to innovate; material leakage needs to become part of the assessment. We just can't assume perfect collection and recycling or thermal recovery. If we had that, marine litter would be a fraction of its extent that we see today. I am afraid we have not seen nothing yet.
What we also need is to better understand decomposing processes and compostability and shed light on the many facets of it. The 28-days rate required for composting is not enough, maybe decomposition in six month or a year. What's important is that the packaging material that eventually decomposes does not pose a hazard in this period and does not leave any hazardous decomposition products behind.
Why do you think you offer a 'truly' sustainable solution for the flexible packaging industry?
We offer lightweight flexible packaging based on renewable raw materials, to be recycled in the existing wastepaper stream, produced in highly efficient manufacturing processes that are predominantly supplied with renewable energy. Already compatible with the EU Green Deal and circular economy.
Most importantly, however, we have the right mindset: what drives us is to really make a difference. We want to understand the relevant aspects, advantages and disadvantages in its whole life cycle. With this in mind we develop our products.