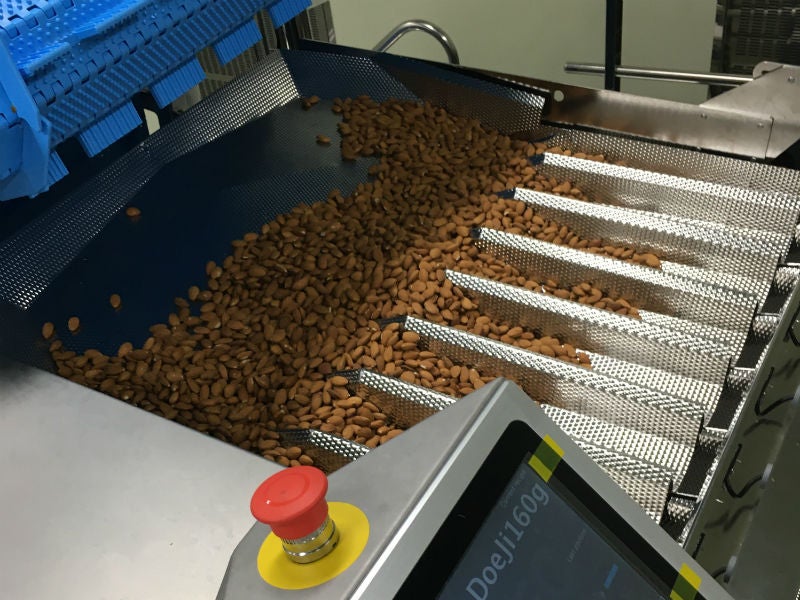 Newtec has been a leading manufacturer of weighing, sorting and packing equipment since the 1970s.
When the company and its dealer JASA realised the demand for a weighing machine that could gently handle multiple portions of small processed food products and combine them in a ready-to-eat package, Newtec's mechanical engineer Bo Zierau immediately got involved with the project.
Developing a compact weighing machine for small portions
Small portions, small products, gentle handling and an easy-to-clean system had been identified by Newtec and JASA as key priorities for the new machine.
"We started up with some discussion about how to do it and we found out that we could make a compact weigher that we called the Mini Weigher. We had to make a lot of changes of course," says Zierau, who began by downscaling each part of the existing Newtec weighing technology.
"Finding the space for a narrower weighing system itself was actually pretty complicated," says Zierau. "Also making it cleanable so it can be taken apart and cleaned part for part was a challenge. But we did it in almost half a year, where we were ready in Holland with two weighing lines consisting of four plus two integrated weighers."
Expanding into the fresh produce sector and developing the Mini Weigher 2008PCM has represented a completely new venture for Newtec, and one that presented a unique set of advantages.
"Many of our standard programmes are for bigger products and bigger portions, so this is a compact machine with a smaller footprint," explains Zierau. "It can make small portions that can be combined with each other line by line. Quick dismantling and assembly of weigh pans, vibrator chutes and funnels make it easy to get access for cleaning and servicing without using tools."
Complex weighing of cut fresh fruit made easy
The first six weighers were transported from Denmark to Holland in November 2016, where they were installed in a line and used for the weighing and packing of small, mixed fruit trays.
The complex requirement, which involved a mix of up to four different fruits in one tray weighing 220g to 400g, presented a challenge that the Mini Weigher was purposefully designed to handle. Newtec's solution involved the deployment of six 2008PCM machines connected across two lines.
To begin the process, operators pre-define the customer recipe and target weight. The weighing machines then weigh the fruit as close to the target weight as possible. The software ensures that each tray contains approximately 50g of green melon, 50g of pineapple and 40g of yellow melon, with the remaining amount topped up with grapes.
Gentle handling was an important requirement in this application, and the Mini Weigher's low product drop height ensured the gentle processing of small, fragile fruits such as berries, even at high speeds of 70 portions per minute (as standalone).
"The demand for our weighing machine proved to be extremely high because of the demand for this group of convenience products."
The machine's high accuracy weighing ensures a minimum of 0.4% giveaway and has completely transformed production for the customer, which had originally been putting the trays together by hand.
With the machine's flexibility to operate standalone or connected to other Mini Weighers along with the ability to process a wide range of food products, industry specialists around the world began to realise the opportunities that the Mini Weigher 2008PCM could offer. Not long after its initial success story, the weigher was in high demand as far away as South Korea, where it was sold through Newtec's South Korean dealer K2-System Eng.
"The demand for our weighing machine proved to be extremely high because of the demand for this group of convenience products. Within a short period of time, we have sold a lot of the Mini Weighers", Zierau says. "And many of the compact weighing machines are going to South Korea where they are used for all types of foods you can think of."
Founded in Denmark in 1976, the Newtec brand is connected to a number of important values, including quality, reliability, trust, innovation, accuracy and the development of machines built to last.
The company focuses on its customers' needs, meaning that whatever product, capacity or portion size required, Newtec's industry experts will provide a durable, reliable and upgradeable solution to efficiently weigh, sort and pack your product.