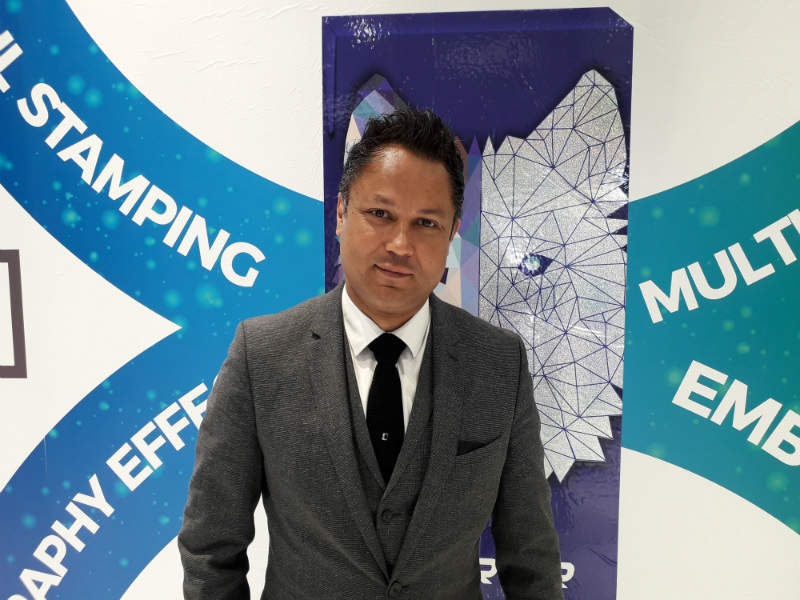 ASEPTO by Uflex is providing the carton industry with eye-catching solutions that make products stand-out from the crowd. Packaging Gateway spoke to Ashwani Sharma, the company's president and CEO of new business initiatives, to get a bit more information about ASEPTO, as well as other areas Uflex is working on within the packaging industry.
---
Packaging Gateway: How would you describe ASEPTO?
Ashwani Sharma: ASEPTO is the first Indian aseptic liquid packaging brand and has the potential to shake out the old and ordinary from the global liquid packaging space. Besides extending the shelf-life of non-aerated liquid products like juices, milk, other dairy derivatives and distilled beverages without having to depend upon the cold chain, the two value-added variants of ASEPTO are ASEPTO Spark and ASEPTO Premium with their striking aesthetic appeal will create the real differentiation at the point-of-sale.
While ASEPTO Spark makes the most of the holographic and metallic effects to boost the visual appeal of the carton packs, ASEPTO Premium deploys intricate procedures like embossing, foil stamping, Fresnel lens, multi-lens technology among others. Aseptic Packs globally have for long been deprived of mesmerising looks and ASEPTO is precisely there to plug this gap of deprivation. We use our in-house holographic expertise to the best advantage of our liquid packaging clients.
If you look at the carton industry, right from toothpaste, the cartons are very fancy and you look at high-end perfume cartons and alcohol cartons. A lot of the effects that are over there, we can produce on ASEPTO packaging with the help of our in-house holographic and engineering capabilities. Apart from the value-added range, the standard offering comprises pillow, trio and brick packs that will be available in 65ml to 1,000ml.
PG: What are the advantages of ASEPTO?
AS: When we conceived this project two years back, we studied the liquid carton industry. What we realised is that there is obviously one global leader and there are two or three big companies. By and large, as a final product, the difference is only in shapes and sealing technology.
But nobody is able to come up with packaging that makes the product look really different and attractive at the retail shelf because these days, packaging plays a very, very important role in attracting customers' attention when the product is on the shelf.
We studied the Chinese market also in a very detailed way; because 30 years back, there was only one company and today there are so many Chinese companies. But at the end of the day, everyone is copying one large player. How can we be different? How can we offer better value to the Indian market, as well as to global customers? We needed something unique.
And at Uflex, the foundation has been on innovation. We already have more than 150 patents to our credit. We focus on delivery of a product to customers that is unique, which makes their brand unique. And the connection with the customer is really strong. We have been doing that time and again.
So, with our products – whether its holography, whether it's foil stamping, or whether it's embossing – the idea is that we are creating a product that is very attractive on the shelf and therefore definitely grabs the attention of the customer. And 95% of the time, that goes in the customers' basket. Once you've got their attention, the battle is won.
PG: How did you get on at Anuga FoodTec recently? Was there a lot of interest from potential clients?
AS: The customers who visited us were really mesmerised by the product that we were showing them. The customers that we have got in substantial numbers are very serious to start partnerships immediately, because they haven't seen such value addition before.
---
---

PG: How is Uflex working to overcome some of the challenges the liquid packaging industry faces?
AS: You say challenges, but we see this market as an opportunity – it's a major opportunity. It's all about if the glass is half empty or half full. The Indian market is growing at around 20% CAGR. We are sitting on a ten billion pack market in India that means that in four years time, we should double. Ten billion packs will need so many machines. Obviously, there is an opportunity for players to co-exist in India, because the growth is phenomenal.
At the same time, the products we make are very unique. So, we can add a lot of value to global customers as well.
"You say challenges, but we see this market as an opportunity – it's a major opportunity."
We've got a large, decent sized capacity in India, which is seven billion packs per year. We don't mind doubling it if there is a market, but as of today, we are at seven billion packs.
PG: Sustainability is a big issue for the packaging industry at the moment. What is Uflex's policy on this?
AS: We accord very high importance to sustainability and it forms the cornerstone of our business processes and the packaging solutions that we develop. Innovation remains inalienable to sustainability at Uflex. Our multipronged approach towards sustainability includes but is not restricted to light-weighting, down-gauging; reduction in production waste, transforming production waste-to-energy, optimising post-consumer-recyclate and economise energy consumption.
Our aseptic liquid packaging manufacturing facility at Sanand Gujarat is gold-rated. It's a zero discharge plant, so zero liquid discharge. So, from a facility point of view, sustainability, water consumption, electricity consumption, are all dialled-in so that we are contributing in a big way to the environment. When you come to the plant, you will see and you will appreciate the kind of facility we have created. It's really, really world-class.
PG: Reducing packaging and food waste has been in the news a lot recently, is this something that has always been part of Uflex's ethos?
AS: Certainly. There is a growing conscientiousness both at consumers and manufacturers' level. All manufacturers as responsible corporate citizens should be contributing to reducing food and packaging wastage. We have a big recycling facility within our plant in Noida.
As a company, we are significantly contributing to the circular economy. But at the same time, we work with all our partners, stakeholders, all our customers, and we encourage them also to contribute.
We have been pretty successful in this context. It's a very important part of our business and we lead by examples. For our aseptic liquid packaging manufacturing plant, we have tied-up with a recycling company, which collects waste from our end and makes items of utility out of it. The waste can be converted into solid board and then you can make any product, pens, chairs, road barricades and so on.
PG: Does your vertical area of Uflex have any products in development that you can talk about?
AS: We can't sit tight, we have to keep creating the excitement. So, we must make sure that next year we come up with something again very unique. So when we are at Anuga next time, we should be able to display something that is very different than what we are exhibiting now. So, yes, we are working on it. There are a few concepts, a few ideas, which we think can go commercial and are technically very good and efficient solutions. But it's at a raw stage right now for me to talk in detail.
To find out more about Uflex's products, fill out the enquiry form here.