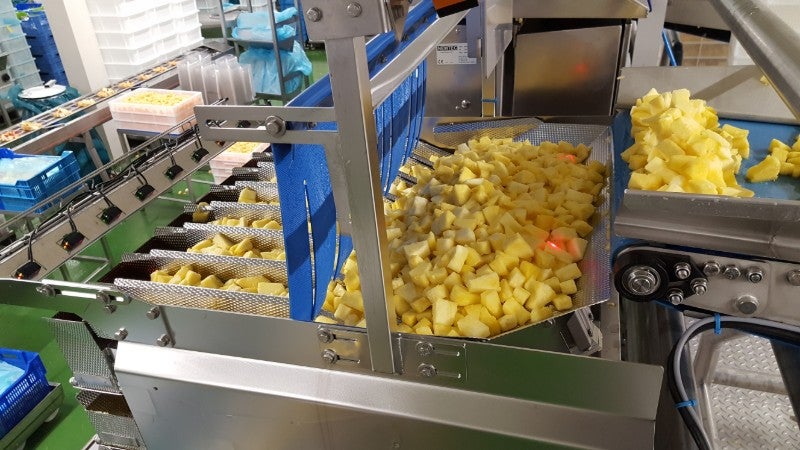 Specifically designed for weighing small, fresh products, the 2008PCM Mini Weigher has quickly proven itself to be a reliable and highly valuable solution that meets all the demands of the ever-growing ready-to-eat market. Newtec Odense (UK) general manager Dean Chilvers spoke to packaging-gateway.com about Newtec's solutions for the processed market and shared some advice for customers looking to make an investment in weighing machinery.
What kind of challenges has the Mini Weigher solved for your customers?
There's a few different challenges that people have. One is labour and how to make a packing environment more cost-effective. Our machinery will help to reduce the giveaway of a product, reduce labour and make the line more efficient.
Our machinery has a very low cost of ownership and a very small footprint and we find that those come into play a lot when we're speaking to customers. When they're looking at their production line, labour is becoming ever more difficult to find and is also getting more expensive, so it's all about trying to keep those prices down, increasing efficiency and not giving any product away.
Are there any other advantages the Mini Weigher can offer for producers of ready-to-eat products?
It's a fully hygienic, clean-down machine, so they can be put in any environment. We've got them running on fresh cut fruit, sliced and diced onions, falafels, various different ready-to-eat products, which the machines are fully IP rated and perfect for weighing. They're also able to be fully stripped down for cleaning.
High level of accuracy, low cost of ownership, the fact it's really easy to use and a well-built, good machine are the other advantages of the Mini Weigher.
Can you give an overview of the market for the Mini Weigher and what the demand has been like for this solution?
In the UK, we're predominantly focused on root crop (that's potatoes, carrots and onions) and over the past forty years we've built the business on those three main products. We've always done a little bit of processing and ready-to-eat foods but our range of equipment hadn't lent us to really attack that market. Over the last few years, we brought out the Mini Weigher, which has really opened up a lot of doors for us, many times with existing customers who do processing as well as whole crop.
The ready-to-eat market is becoming ever more so increasing, year on year. It's something that we've always wanted to get into and since we've launched this machine we've seen a massive increase in enquiries and sales. That shows us that we've obviously got the right machine for the job, which also is quite unique as not many of our competitors do anything like ours. It's worked really well for us because it's a small, reasonably priced and good-running machine.
Another Newtec machine that can be used for fresh vegetables and ready-to-eat products is the High Speed Container Filler. What are the main selling points of this solution?
Obviously, it says it in the name that it's very high speed for the marketplace. It will do up to 90 packs per minute. The main selling point of the High Speed Container Filler is that it's very flexible; you can run cups, liddable cups, punnets, plastic, cardboard and buckets on it. We always used to have different machines that work for individual products but now this one machine can encompass the ever-increasing demands of the client, who might have four or five different customers that all want different styles of packaging. This machine can cover them all; it's a nice, fast, flexible machine.
What advice would you give to potential customers considering one of these solutions?
You need to look at the whole picture. When you buy a piece of equipment, you're entering a trust relationship with us. Firstly, the machine's got to do the job and then secondly, we've got to look after it for the journey of its life. Speed, reliability and accuracy all need to be considered. Cost of ownership is the big one because no matter how much a machine costs, if it costs the same as the purchase price every year to run it, then it is false economy. Newtec machines have a very low cost of running.
"Since we've launched this machine we've seen a massive increase in enquiries and sales. That shows us that we've obviously got the right machine for the job."
It's also about trying to make the machines as flexible as possible, not to just buy a machine to do one job – try to have a look around your whole factory. All machines are getting more and more expensive and it's important to find full use for the equipment so you can get a quick payback on the investment, whether that's on speed and efficiency or whether that's on giveaway of the product. You don't want to be giving anything away; if you're selling 500g of something it needs to be as close to 500g as possible.
So, there's many aspects to look at but it's also about finding a partner you can trust, someone who's got a bit of history behind them and experience and who's got, like Newtec, dedicated engineers that travel around the country setting up the equipment, giving training, enhancing the machines. It's like a care package really; once you buy into the Newtec family, we'll make sure we look after you for the lifetime of the machine.
Finally, what kind of approach or process can those customers expect when they make the decision to work with Newtec?
I'd like to think professional! We see that what we're dealing in isn't bread and milk; we're dealing in heavy, capital equipment, which is a major investment for any business. So for us, it's about the respect and trust. If a customer is going to invest with us, as a company we need to pay back that investment with a good piece of equipment, great back-up and support all the way through. Whether it's a 12-month-old machine or a 20-year-old machine, it's got our name on it so we need to support it as though it's a new machine and hopefully we've been going long enough that people have that thought when our name is said.