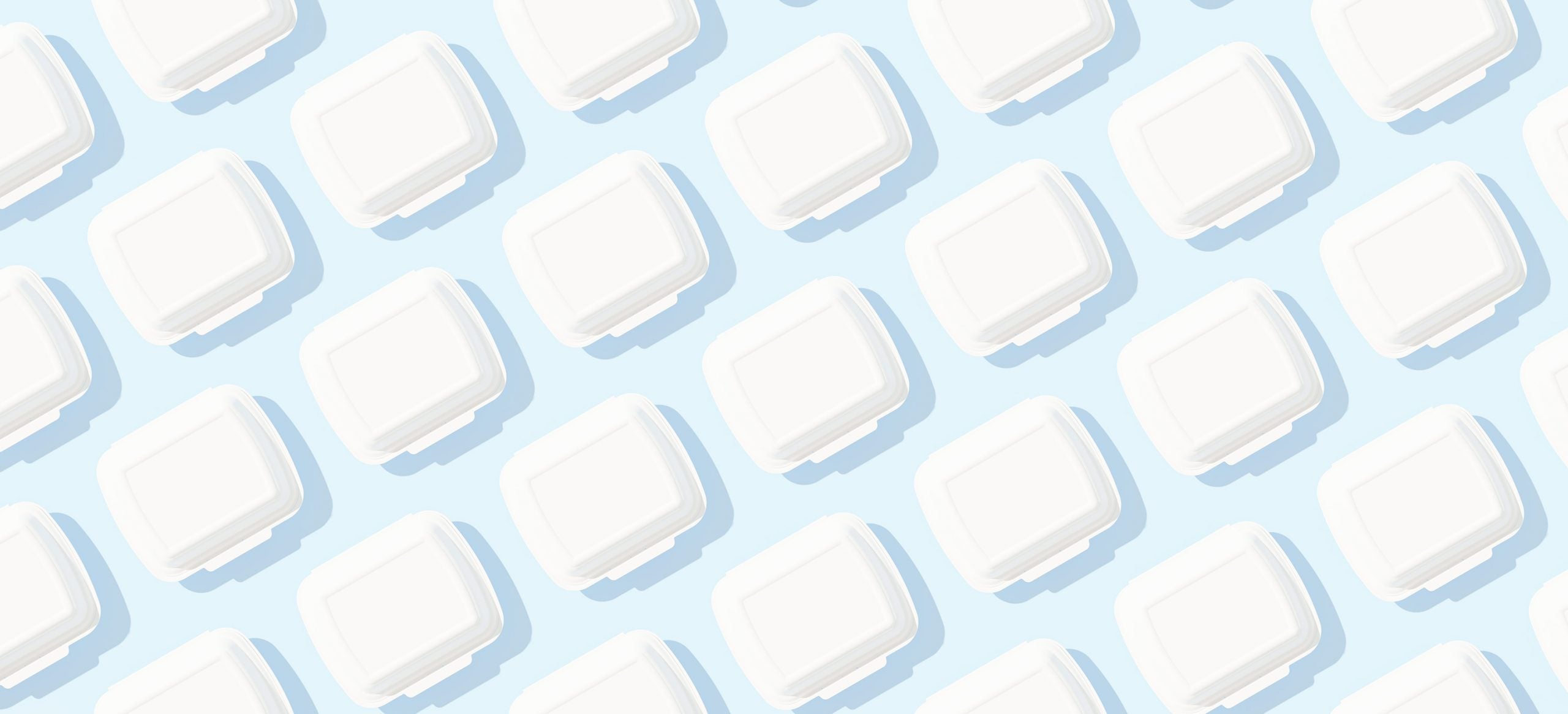 With restaurants and pubs seeing closure during Covid-19 caused lockdowns around the world, the takeaway market has been booming. In Europe alone, the online food delivery market is forecasted to be valued at $20.27bn by 2026, growing with a 5.83% CAGR from 2020 to 2026.
As the takeaway market grows, so too does the need for takeaway packaging. We hear from experts across the packaging industry to find out how this is impacting the recycling chain, and what opportunities it presents to businesses when it comes to marketing and branding.
"The problem of takeaway packaging is not going to go away with the end of lockdown."
Andrew Capper, the co-founder and creative director of UK-based brand strategy agency Echo, says that the uptick in takeaway packaging has resulted in a massive increase in single-use packaging which current recycling infrastructure is struggling to manage.
"As restaurants and pubs closed, and the public was advised – then ordered – to stay at home, the use of takeaway packaging exploded," says Capper. "In part because hygiene is now front of mind, in part because we're housebound and a takeaway is one of few 'treats' on offer during lockdown.
"Existing catering businesses quickly pivoted to offer at-home meal services to meet this need and give themselves a means of financial survival, from your local pub doing Sunday roast delivery to deli's doing curated barbecue boxes, right down to a single serve ketchup.
"All of this drove a massive increase in single use packaging and all in a decentralised way. Where before, recycling infrastructure collected from town and city restaurants, all this cardboard and plastic is now sitting with us, the end consumer.
"There is already a shortage of cardboard for recycling as it's not making its way through the domestic recycling chain with the same efficiency. At the time, plastic recycling rates dipped and the price difference between virgin and recycled plastics increased, creating further sustainability challenges.
"The pandemic has made food business more entrepreneurial and even when things open up again, I would expect most to retain these new offers alongside their eat-in ones as another revenue stream. Consumer expectations of what, where, and when we can eat, will have been changed forever, so the problem of takeaway packaging is not going to go away with the end of lockdown."
"Today, availability of recovered paper and board is limited, and expected to decrease further."
Debbie Waldron-Hoines, the co-founder of UK-based organisation Women in Packaging, tells Inside Packaging that the takeaway trend has been on the rise since before the pandemic, and is not likely to go away any time soon.
"The delivery/take-away sector had started booming even before Covid-19, rising from £8.1b to £8.5b between 2018 and 2019," Waldron-Hoines explains. "UK takeaways returned to, and in some months exceeded, their pre-Covid-19 highs with collected/drive-thrus from McDonalds, KFC and Greggs key to this recovery.
"More deliveries mean more carbon emissions. Not being able to fill reusable cups from coffeehouses like Starbucks adds to packaging waste and, where single use plastics usage was declining, it has now increased to reduce risk of viral transmission.
"Packaging, per se, is not the problem. More takeaways/home deliveries have caused household waste levels to rise without adequate schemes in place for collection and recycling.
"Pre-pandemic, most deliveries of pulp fibre were made in bulk to shops and restaurants, and packaging found its way back into the system via established recycling policies and good practices. Today, availability of recovered paper and board is limited, and expected to decrease further.
"Packaging's role is to promote, protect and preserve. Consider if it does its job, is it excessive, are there better substrates, can it be reused, what's its carbon footprint? Understand the circular economy and packaging's place in it. Work with Government on combatting littering and creating useable Deposit Return Schemes (DRS) and use QR Codes to educate consumers."
"We foresee green app technology being used by consumers."
Rachel Warren, the marketing director at green-tech company CryptoCycle, says that one way to tackle throwaway culture is by creating solutions that will help consumers recycle and contribute to a circular economy.
"Throwaway mentality is having a devastating impact on the environment, and the whole industry has a part to play to reverse this trend – not just the consumer," says Warren.
"Recycling has its part to play in a better future. However, recycling alone won't solve the many problems we have, but keeping items in the circular economy, whether it be drinks or food packaging, textiles or tyres, single use or re-use, is a step forward to a brighter future.
"For example, a CryptoCycle product, Reward4Waste, is an app that 'captures' good recycling behaviour and rewards consumers for that recycle; whether it be through a DRS, a recycle scheme or a re-use scheme. Captured items can be tracked through the circular economy, and users can see what happened to that packaging they purchased and recycled.
"Given the amount of interest Reward4Waste is generating, we foresee green app technology such as Reward4Waste being used by consumers throughout the UK within a few years."
"The brand-building potential is huge."
Tom Jenkins, a content specialist at hospitality insider platform Fine Dining Lovers, says that the takeaway packaging has been vital to those in the food industry during the Covid-19 pandemic and that it's an opportunity to enhance customer experience.
"For some chefs and restaurants, it's been a matter of survival," he says. "The question of whether this trend continues post-Covid-19 is a difficult one. Certainly, some restaurants are seeing the potential of takeaway and 'makeaways' as we like to call them as a lucrative additional revenue stream
"Takeaways, meal kits, and the like, are now an event in the way that going to dinner once was, thus it's important to create a complete experience. It's also a great brand-building exercise. At the beginning, some Michelin-starred restaurants were sending out food in [standard] takeaway containers, but now they've got wise.
"Bespoke packaging and interactive elements like Spotify playlists and instructional videos cement the experience. Restaurants need to ensure that instructions are simple and clear, and of course that the food arrives in perfect condition, especially now many have gone nationwide.
"Working with companies on sustainable packaging solutions that negate the use for temperature-controlled vehicles as well as protect is what has allowed many to go nationwide. This has allowed them to reach consumers around the country that they wouldn't have been able to before. These consumers may then visit the restaurant on their next visit to say London, so the brand-building potential is huge.
"We've seen some beautiful packaging ideas, especially from the very top Michelin-starred restaurants. For example: origami-style lotus boxes that open out to create beautiful plates, or bespoke cheese boards, as well as from the more casual places, like Pizza Pilgrims, who have created a frying pan pizza kit that arrives in a pizza box."
"The benefits of single-use takeout packaging speak to what consumers want."
Kelly Golden, the director of business and product development for US-based company Graphic Packaging International, says that paper takeaway packaging provides benefits to customers and is more sustainable than alternatives.
"The demand for takeout and delivery was already on the rise but really surged as a result of Covid-19 dine-in restrictions," says Golden. "Businesses were looking to keep the revenue streams flowing and consumers were needing the familiarity and comfort of food from their favourite restaurants.
"Takeout packaging hits the mark on both. As life begins to settle into its new normal, takeout packaging will continue to play a big role. The benefits of single-use takeout packaging speak to what consumers want – convenience, portability, safety, and protection. We may even see restaurants move completely to single-use packaging for both takeout and dine-in as it gives consumers peace of mind regarding hygiene.
"Paper-based packaging has the added benefit of a positive environmental impact while still offering a sanitary, sustainable solution. Fibre is sourced from renewable, sustainable resources and can be recycled in many cities and towns. Paper-based packaging is a perfect solution to both consumer and business needs for takeout packaging."