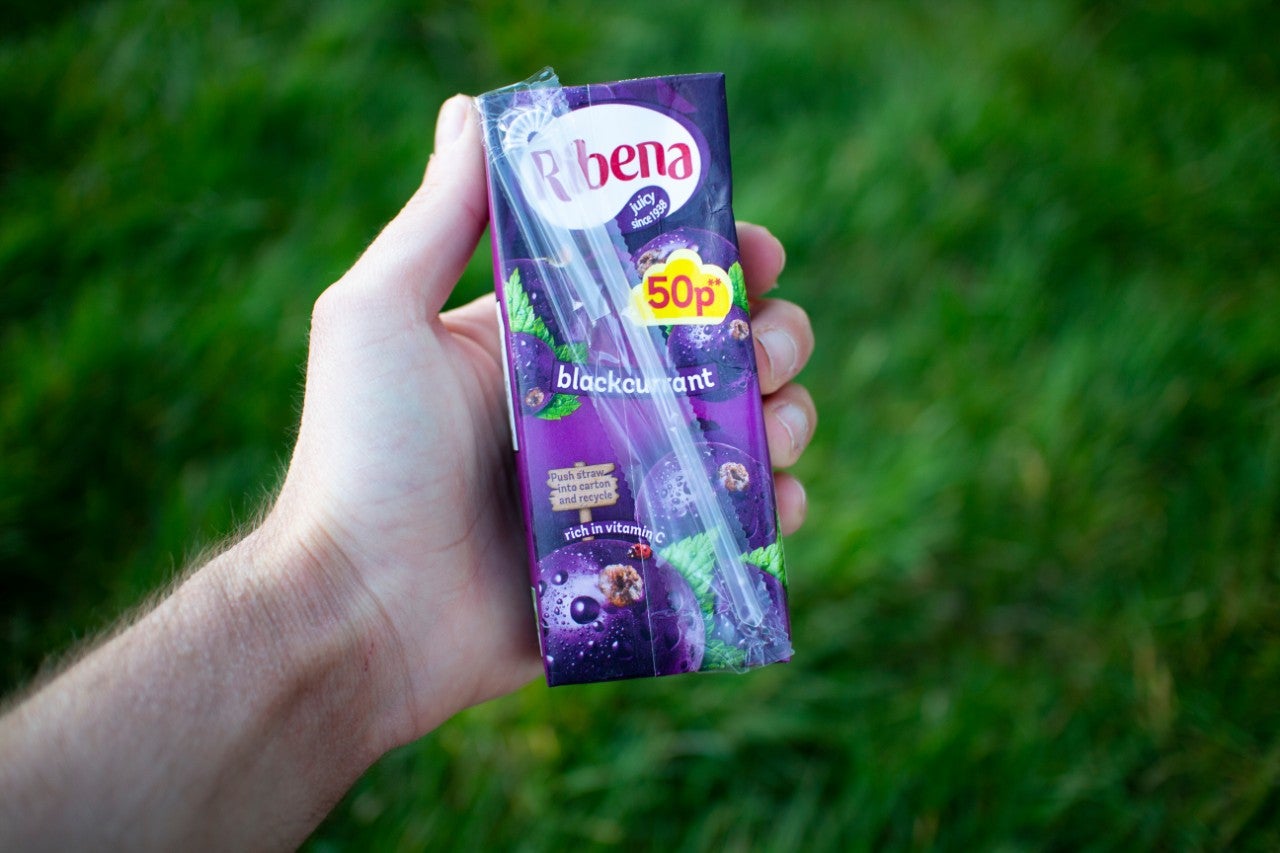 In a bid to reduce their plastic usage, Ribena is trialling 100% recyclable paper straws on their cartons, in Tesco stores only. The drink brand, owned by Suntory Beverage & Food GB&I, are among the first in the country to adopt wholly paper straws. This will allegedly reduce plastic waste by up to 16 tonnes a year, as the small plastic straws typically used in the cartons are not easily recycled – such waste can account for as much as 4% of all plastic waste globally.
The paper straw was developed by Transcend packaging, a British manufacturing company. Challenges of developing a paper straw for carton use includes ensuring that the straws can puncture the carton, and do not absorb the liquid or become soggy while in use. Ribena's introduction of the paper straw is timely, giving them time to receive consumer feedback on the straws, before the governments introduction of a single use plastic ban. But a widespread adoption of a paper straw may have come at a bad time for companies seeking consumer feedback – anxieties of a second lockdown may cause consumers to spend less money on novel products, and instead focus on essentials.
The ban, which was to be introduced in April this year, was delayed until October, due to the Covid-19 pandemic. As well as delaying the ban in the UK, the pandemic has caused a general regression in single use plastic usage – such plastic now plays a pivotal role in maintaining a sterilised and sanitary society. The move to online shopping, delivery and takeaway has forced consumers to revert to using single use plastics – the introduction of the ban in October may see a diminished effect as a result.
GlobalData's bi-weekly Covid-19 recovery consumer survey, published 23 September, indicates that recycling remains a top consideration for many consumers in the UK – with 44% of respondents saying that recycling is now a more important aspect for them since the outbreak of the pandemic.
On the recycling front, a recent report from Which? Reported that two thirds of the UK's biggest brands do not have packaging that is fully recyclable; many do not properly inform the consumer about the appropriate method to dispose them with. The study ranked different food categories in terms of how difficult they are to recycle; foods such as crisps and cheese were found to be much harder to recycle relative to others.
Promises of sustainability from big manufacturers, and the willingness of consumers to recycle as much as they can, are clearly positive trends in the fight against plastic. But the pandemic, and its subsequent revival of single use plastic, has made the fight harder than ever.