Since its foundation in 1988, CPS Case Packing Systems has focused on fully automatic case packing systems with a special emphasis on flexible products and trays. CPS is uniquely proficient in packing products of this type at high speeds and efficiently, and there are other benefits as well.
CPS Case Packing Systems
CPS machines pack products more compactly than is possible by hand and therefore achieve substantial cost savings. Packing in shelf-ready boxes has also become an important aspect. CPS uses this expertise and experience to produce high-quality case packers.
Flexible bags, block bottom bags, gusseted bags, MAP trays or flowpacks in all shapes and sizes are packed fully automatically and at high speed horizontal and / or vertical in RSC boxes, cardboard trays, crates, pallet boxes and wheeled containers.
The casepackers are also capable of laying block-base bags horizontally in a head-to-toe pattern. The main markets are deep-frozen products such as frozen French fries, vegetables, bread meat and fish.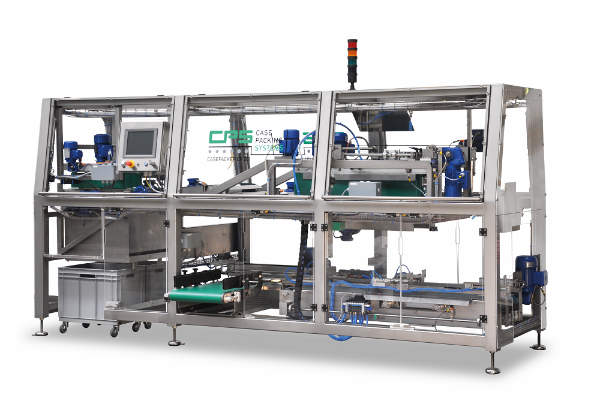 The CP 201 gravity case packer for horizontally packing deep-frozen products in boxes at high speed. Frozen French fries, vegetables, meat and fish. Our CP201 case packer is capable of greater kg/m3 packing performance than any other machine.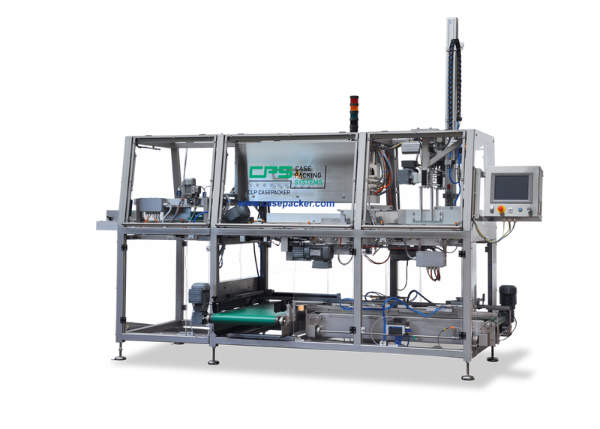 The Pick & Place CLP case packer integrates a Pick&Place unit that picks and places MAP trays, flowpacked products, sausages and semi-flexible bags horizontal in corrugated cases, cardboard trays and plastic crates.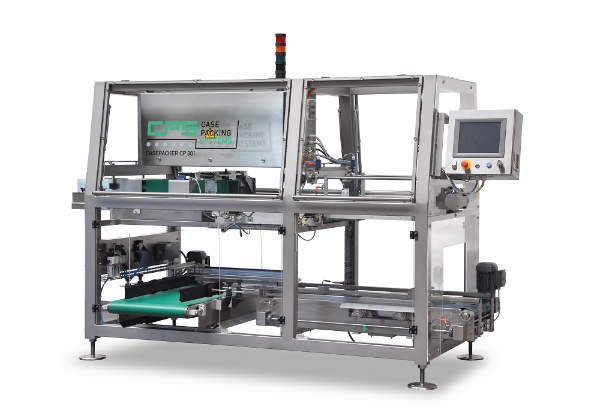 The CP 301 case packer for small bags horizontally in boxes at high speed and handle a wide range of flexible bags containing sweets and snacks.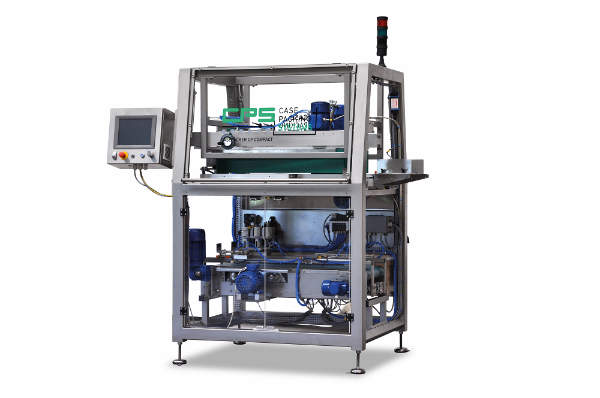 The CP Compact is a simple gravity case packer and suitable for packing large flexible bags horizontally in boxes or crates. The compact is an optimum solution for bread and animal feed products with simple packing patterns.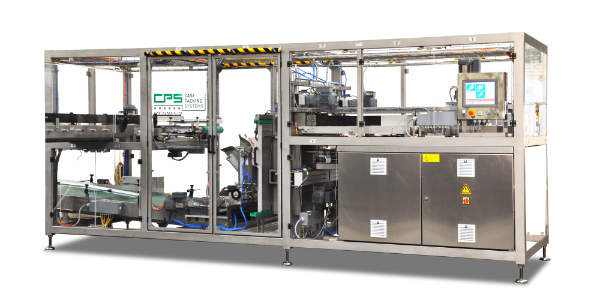 The SL 105 side loader has been specially developed for applications requiring vertical packing of a wide variety of flexible, block bottom and gusseted bags, in corrugated cases or plastic crates with a number of different packing patterns.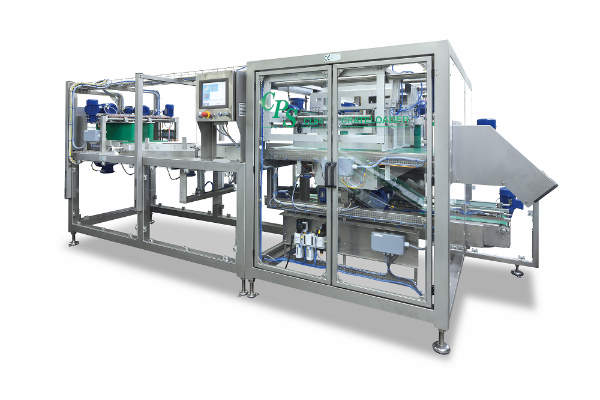 The CL 64 crate loader has been specially developed for applications requiring horizontal packing of a wide variety of flexible bags in crates and boxes in a number of different packing patterns.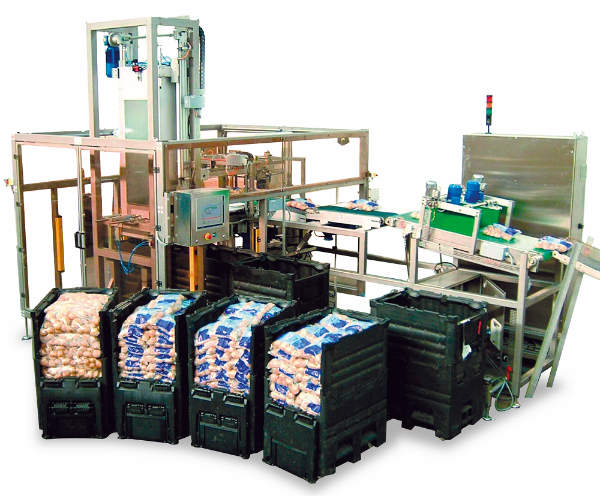 The CL 86 container loader loads bags fully automatically horizontal into 400 x 300 or 800 x 600 mm containers, Dusseldorfers, Aldi Boxes and pallet boxes.
Pet food, confectionary, snacks and fresh vegetables and meat products, such as fresh potatoes, carrots and mince meat.
In order to supply customer-specific case packing lines, CPS integrates X-ray scanners, metal detectors, checkweighers, coding systems and case erectors in their case packing systems.
The total case packing line is normally supplied with the complete product and box supply systems, and may also include merging and buffering systems, to the final discharge of the sealed box, which is completely designed and constructed by CPS in house.
If required, collaborations can be set up with partners in order to deliver complete turn-key projects, including packaging machines and palletising systems.
CPS currently produces a complete range of professional case packers for horizontal and / or vertical packing.
We think in creative solutions, with your input.
Our company
CPS Case Packing Systems delivers professional solutions for automatically packing flexible bags and MAP trays in corrugated Fefco 0201 or 0209 cases, trays, crates, pallet boxes and even wheeled containers.
Ranging from bag, box and crate handling systems to integrated quality control elements, such as metal detection, seal integrity detection, correctly closed box monitoring, bag and box weight measurement.
From box erectors to case packers, to case packing lines and complete turn-key projects, where palletisers and other equipment can be supplied as possible options to complete the picture.
Our origins
CPS has developed and produced packaging machines since 1957. Previously, these included form fill seal machines under the name of UVA Aquarius.
Since 1988 however, we have specialised in developing and producing case packing systems. CPS is one of the largest players in automatic packing systems for flexible bags.
Our approach: tailor-made
CPS Case Packing Systems develops innovative, individual solutions for your specific needs. We give customers an extra edge by continuously offering suitable packaging solutions in a rapidly changing market.
Tailor-made is an apt description of what we do. Each end-of-line packaging system is specifically tailored to your requirements and expectations, so you benefit from our experience in making your packaging department profitable.
Everything under control
All CPS packaging systems are controlled using Sigmatek software. Our own software engineers write and manage the associated software. CPS uses commonly available PLC and IPC components that are supported by Windows.
A VPN connection, which is a standard feature of the CPS case packer unit, allows on-line communication for diagnostic purposes, programme modifications and updates, regardless of your location in the world.
All production information, such as idle times, fault analysis data and line efficiency improvement data, can be copied or printed. This information can be used to improve line performance.
The controls for the complete case packing line are visualised via an HMI interface, based on a TFT colour touch screen that also displays fault messages and suggested solutions.
Worldwide network of partners
CPS has a worldwide network of partners to work with, in order to service you in your own language and culture. Please look at out website and then go to Contact and Partners to find out who to get in touch with. Or contact CPS directly and we will help you further with your requests.