Multivac Australia
Thermoformers, Automatic Tray Sealers and Vacuum Chamber Machines

Address
2 McGregors Drive,
3042 Keilor Park,
Victoria,
Tullamarine,
Other,
Australia
Phone
Multivac is the pre-eminent authority on thermoform packaging machines, and continually raises standards in hygienic design, performance and value for every type of machinery that it builds, including thermoformers, automatic tray sealers and vacuum chamber machines. Multivac is a multinational corporation serving clients in more than 140 countries around the world.
Compact thermoformers
Multivac's compact thermoformers are fully automatic, efficient and cost-effective. They have a very small footprint and incorporate our industry-leading hygienic design, technology and quality. Like all Multivac machines, they also come with comprehensive packaging expertise, personalised consultation and first-class service, worldwide. Multivac offers the following compact thermoformers:
R 105: offers excellent value for a small investment, as you can simply plug it in and start packaging
R 126: available with a range of options in film width and forming processes, offering a variety of automated solutions
R 145: a flexible and customisable compact thermoformer designed for lower to mid-range production volumes
Medium and large-volume thermoformers
For the automated packaging of medium and large volumes Multivac offers a comprehensive range of thermoforming machines. All of these machines offer hygienic design, maximum reliability and the flexibility to add options that meet your individual packaging needs. Multivac's medium and large-volume thermoformers include:
R 225: designed for medium volumes, this machine can be integrated into complete automated packaging lines
R 245: also suitable for integration into automated packaging lines, this machine offers a full range of options including CIP
R 535: designed for maximum output and use in high-volume industrial production
Vacuum pack thermoformers
Multivac develops unique packaging solutions for a wide range of specialised applications including vacuum skin packaging (VSP) and shrink packaging.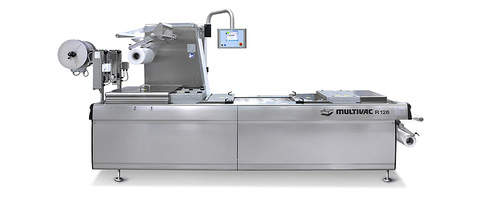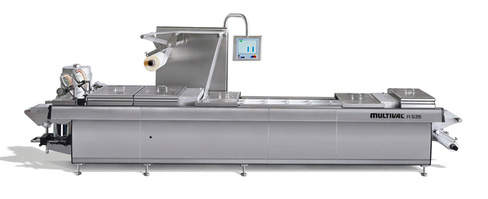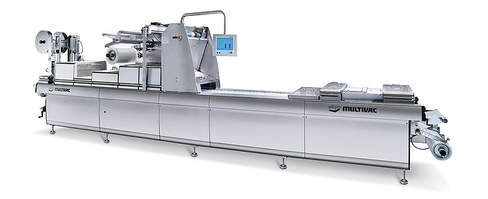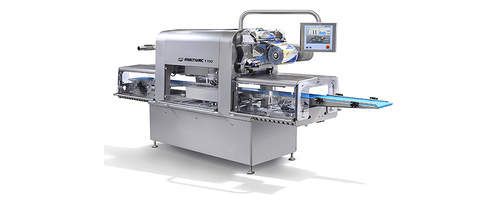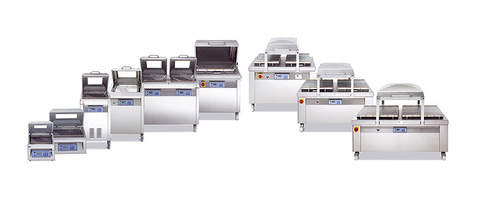 Our DARFRESH and FormShrink thermoformers produce attractive and efficient vacuum packs using a minimal amount of packaging material. They also offer exceptional shelf life and outstanding quality and reliability.
Automatic tray sealers
Multivac's new automatic in-line tray sealers combine industry-leading hygienic design, machine reliability and an easy-to-use control system to offer simple, scalable packaging solutions. These machines deliver optimal packaging results with air, MAP, skin (VSP), SkinFOIL, foil, FreshSAFE, slicepack and Mirabella applications.
The T 700 automatic tray sealer is designed for industrial production, while the T 800 automatic tray sealer is designed for high-volume industrial production. Both machines automatically adjust for the output you require. Our automatic tray sealers are ideal for a wide range of applications, including food, medical products, and consumer and industrial goods.
Vacuum chamber machines
Multivac table-top and floor-standing vacuum chamber machines are exceptionally durable and designed for continuous professional operation. Equipped with precision microprocessor controls and one-touch automatic programming, these systems are extremely easy to use.
Our vacuum chamber machines are engineered and built to be hygienic and easy to clean. Machines are also available with optional modified atmosphere packaging (MAP) equipment and a wide range of accessories.
For the largest products and highest volume demands, Multivac's large vacuum chamber machines are ideal. Wash-down ready, with flat-deck design, these systems can be used to package a wide variety of products.
Conveyor belt chamber machines
Multivac's ergonomically designed conveyor belt chamber machines combine ease of use and our ground-breaking hygienic design, guaranteeing excellent pack quality and reliability, as well as a high throughput.
Conveyor belt chamber machines can be integrated into complete automated packaging lines along with shrink units and drying tunnels.
Multivac Australia Pty Ltd
2 McGregors Drive
3042 Keilor Park
Victoria
Tullamarine
Other
Australia



Telephone Number




Fax Number




Email Address