tna provides a comprehensive range of packaging machines and solutions for food and processing applications, with an installation base of more than 14,000 systems throughout 120 countries.
The company is a specialist provider of high-speed form fill and seal (VFFS) packaging machines, with its tna robag remaining one of the best-selling machines of its kind more than three decades since its original launch.
The company's product range includes solutions for functions such as packaging, material handling, processing, coating, verification, distribution, labelling, and cooling and freezing.
Customers receive a cost-effective, efficient and reliable service with added flexibility through a combination of tna's advanced technologies, experience in project management, and global network of 30 sites. Solutions are provided for sectors that include snacks, confectionery, crisps, perishable goods, cereals, meats, powders, pet foods, pastas, and nuts.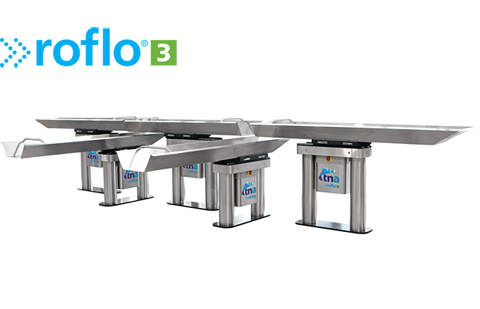 tna's roflo® 3 is the ultimate transfer and distribution system; it uses servo-driven linear motion to gently and rapidly transport almost any product.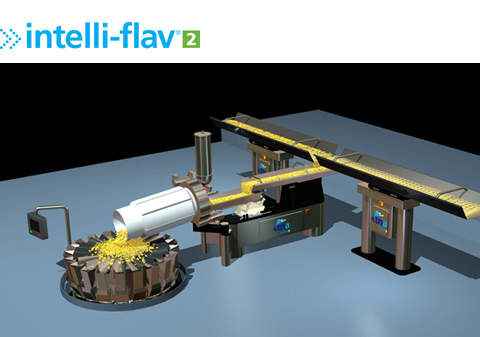 tna's intelli-flav® 2 flavouring system offers a new world of performance and consistency in product flavouring.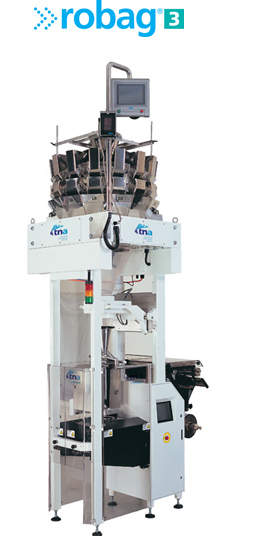 tna's revolutionary robag® 3 packages food products with unrivalled performance, flexibility and simplicity.
Advanced packaging and weighing solutions
tna's complete range of turnkey systems provides the food industry with some of the most innovative and versatile packaging solutions available on the market.
The company's high-performance VFFS technology covers completely integrated, high-speed vertical, form, fill and seal machines such as the tna robag® FX 3ci, to full washdown solutions such as the tna arctic® 3.
In addition, tna's highly accurate multi-head scales deliver the highest level of efficiency and hygiene for wet or dry applications, while simplifying the weighing process
Ultra-high performance case packers
Launched in 2017, tna ropac® 5 is a pioneering, ultra-high-speed case packer capable of processing bags at speeds of up to 300 a minute.
Its advanced and streamlined design has one of the smallest footprints of any packaging machine, while offering exceptional throughput and reliability for snacks manufacturers.
Packaging machines with integrated inserting and labelling technology
Available as standalone equipment or fully integrated into the tna robag packaging system, the Unique Solutions PouchPlus® 1000 and LabelPlus® 360 enable high-speed application of labels and insertion of two-dimensional items such as coupons, as well as processing of three-dimensional items such as toys or dry or liquid-filled sachets.
Food processing and distribution solutionsfor snack production
tna provides an extensive range of processing solutions for the snacks industry through solutions such as its FOODesign batch fryers and Florigo continuous and vacuum fryers, as well as complete production lines for French fries.
The tna roflo® 3 series of vibratory and horizontal motion conveyor systems transport products to minimise breakages or loss of flavours, while eliminating the risk of cross contamination. With its patented 'switcheroo' bi-directional operation, the highly flexible tna roflo series allows manufacturers to use one lane for production functions that would ordinarily require two conveyor rows.
High-precision seasoning and coating solutions
tna's seasoning and coating solutions are some of the most accurate and flexible systems on the market. The tna intelli-flav® 5 is a high-accuracy seasoning solution capable of deploying both oil sprays and powders to foods.
Starch moulding solutions
tna has all the necessary equipment for starch moulding, including moguls, laboratory printer depositors, pumps and accessories, conditioning systems, as well as a diverse number of product finishing units to clean products or apply oil and sugar coatings.
Metal detection and verification systems for food processing
Clients have come to rely on tna to ensure that all their production needs are met and regulations are adhered to.
tna's highly accurate metal detection products offer manufacturers reliability in compliance with industry standards and food safety regulation.
When it comes to verification, tna delivers highly accurate and reliable date code assurance systems through its intelli-scan®, capable of operating at speeds of up to 200bpm.
tna offers data integration systems for a single point of control to integrate the entire production line, including SCADA, HMI and customised reporting.
The company provides a complete service package for clients, covering project management, product testing, training, and after-sales-support to deliver turnkey solutions that will be fully operational as soon as they're installed.