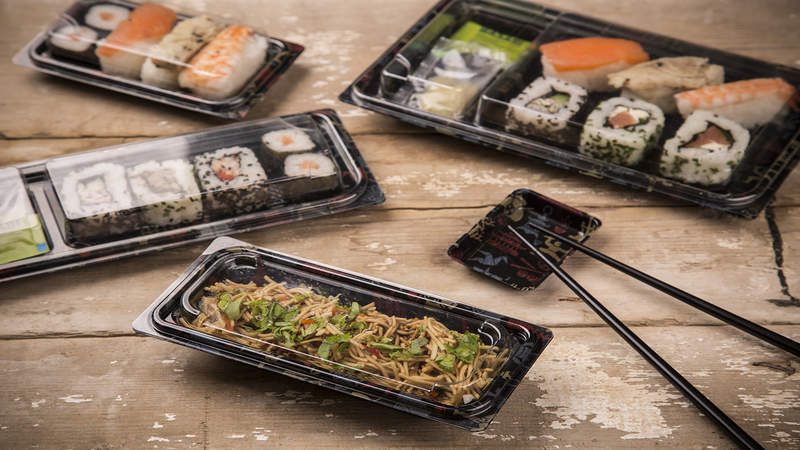 Linpac and Norway's Leroy Seafood Group produced a range of new food packaging trays for Spanish retailer Mercadona.
Featuring single, double-portion and family sized packs, the trays were manufactured from laminated polyethylene terephthalate (PET), and incorporated a printed film base tray and a clear anti-fog PET lid.
The packaging offered internal spaces for wooden chopsticks and condiments, and is suitable for packing ready-to-eat food, raw fish, non-fish sushi and sashimi.
---
Minnesota-based Cortec manufactured custom-made CorrTainer boxes that provide corrosion protection.
The boxes featured vapour phase corrosion inhibitors (VpCIs) inserted directly into the cardboard walls to ensure automatic corrosion protection for metal parts stored inside.
Having installed a new box-making machine, the company noted that it was able to supply corrosion protection boxes to meet demand.
---
Toray Plastics (America) introduced its new suite of polyethylene terephthalate (PET) films that can be used in gamma irradiation sterilisation packaging applications.
Featuring three variants, Lumirror GA10, GA25, and GA66, the polyester film range offered improved retention of tensile properties, including tensile strength at break, Young's modulus, and elongation break.
The films also provide optical properties such as gloss, haze, and colour, for up to two years after initial radiation exposure by a Cobalt-60 irradiation processor.
---
UK-based Biome Bioplastics developed a new range of bio-based plastic materials for the manufacture of disposable cups, lids, and coffee pods.
Made from plant-based sources and tree by-products, the bioplastics seek to reduce waste and provide a more sustainable option to the retailers and packaging manufacturers, even under heat and other stresses.
According to the company, disposable cups made from its bio-based plastic material can be recycled both in paper recycling and food waste streams.
---
UK-based Beatson Clark designed a new glass bottle for South Yorkshire-based condiment brand Henderson's Relish.
The new lighter and more environmentally friendly bottles were manufactured from 30% recycled material, almost 10% of which was collected locally and processed in Beatson Clark's onsite recycling plant in Rotherham, UK.
Developed using Beatson Clark's sculpting software, the new 284ml bottle features 'Henderson's Relish' embossed above its label and 'Henderson's Sheffield' on the base.
---
Paper-based packaging firm Smurfit Kappa acquired Russian corrugated packaging company Soyuz in order to strengthen its operations in Russia.
Based in Moscow, Soyuz focuses on manufacturing corrugated packaging for multiple industry sectors for customers across Europe.
It employs nearly 300 people and owns three facilities situated in Saint Petersburg, Russia.
---
UK-based packaging and engineered coatings manufacturer Coveris developed a new hybrid packaging solution, Grab Box, for the food-to-go industry.
A hybrid of sustainable board and film materials, Grab Box is suitable for packing premium and top-tier products.
The new packaging was launched by retailer Tesco last year for its 'Finest' range of sandwiches, and is said to offer improved protection.
---
Francis Ford Coppola Winery launched its canned white wine line Diamond Collection, and added Chardonnay, Pinot Grigio, and Sauvignon Blanc to its portfolio.
Francis Ford Coppola Winery president and winemaking director Corey Beck said: "It was Francis's instinct and creativity that first brought wine-in-a-can to the forefront of the wine industry with the introduction of the Sofia Mini cans more than a decade ago.
"For a category that's accelerated so rapidly over the years, consumers are still loyal to the Coppola brands they trust and admire, because they know we will deliver the same premium quality, consistency, and authenticity they know and love in a bottle, into a can."
---
A new analysis by Resource Recycling Systems (RRS) found that aluminium beverage cans are the most recycled drink packaging in the world, ahead of PET and glass containers.
Commissioned by the Can Manufacturers Institute (CMI), Beverage Can Makers Europe (BCME) and Abralatas in Brazil, the study analysed global recycling data to find the recyclability rates for aluminium, PET and glass beverage containers.
It established a global weighted average recycling rate of 69% for aluminium, 43% for PET containers and 46% for glass packages.
---
Paper-based packaging solutions provider Smurfit Kappa opened the second Experience Centre for Bag-in-Box in Épernay, France.
Managed by technical experts, the new centre is equipped with the latest technology and interactive displays to exhibit films, taps and boxes.
Smurfit Kappa Bag-in-Box Épernay general manager Dominique Gessat said: "Customers coming to the Experience Centre can evaluate all the processes of production and see with their own eyes the quality standards that Smurfit Kappa Bag-in-Box has adopted over the years.
"Our production plants are certified worldwide, recognised for their modern equipment and strict procedures to ensure with food packaging regulations."