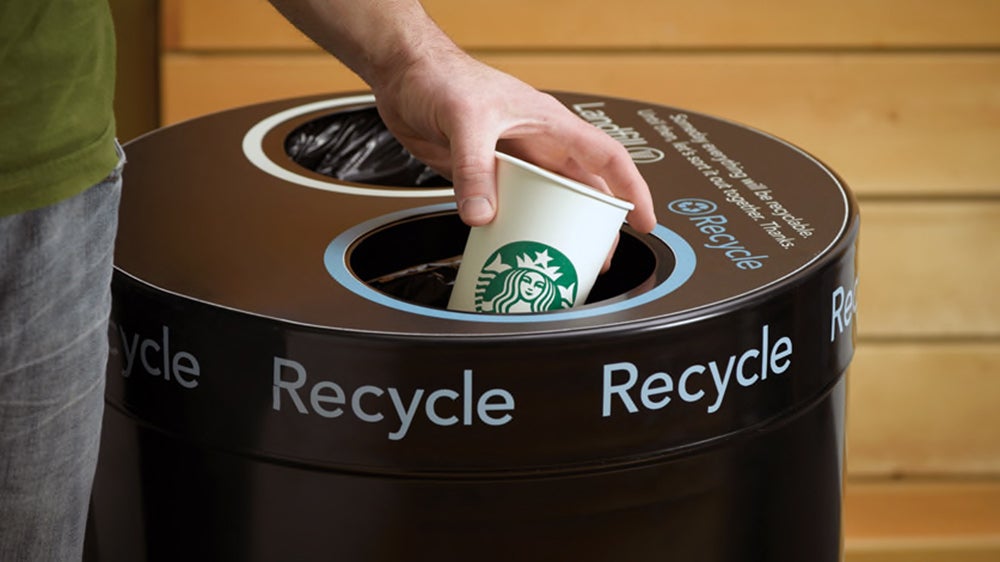 International coffee chain Starbucks has today launched its NextGen trial, which will implement sustainable cups from the NextGen Cup Challenge in selected stores.
The trial is part of the NextGen Cup Challenge and will see cups lined with biodegradable polybutylene succinate (BioPBS) plastic circulated in selected stores in Vancouver, Seattle, San Francisco, New York, and London. The BioPBS lining makes the cup compostable and recyclable.
The trial is designed to test customer in-store experience with the specific goal of there being no noticeable difference in performance between the NextGen cup and the current cup that is used in stores.
The NextGen Cup Challenge was co-founded by Starbucks and McDonald's and established in partnership with New York-based investment firm Closed Loop Partners and global consortium NextGen Consortium.
The NextGen Cup Challenge began in 2018 to find innovative solutions for single-use cups. Twelve winners were announced in February last year.
Starbucks has since researched and evaluated the quality and performance of the winning cups and identified one of the winning solutions as ready to implement in stores.
Starbucks is now working with Closed Loop Partners and the NextGen Consortium to continue testing the various challenge winners, including further testing of the BioPBS-lined cup to assure that it has better recyclability than the current cup.
The trial contributes to Starbucks' goal of becoming resource-positive, which included aims to develop eco-friendlier stores and shift from single-use to reusable packaging.
Starbucks last week placed a temporary ban on reusable cups to prevent the spread of Covid-19 Coronavirus outbreak.
Free Report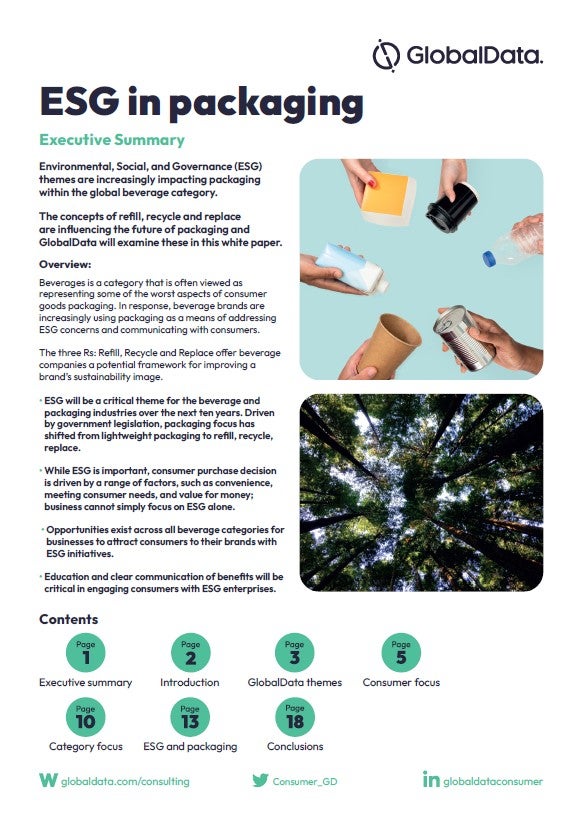 How is ESG transforming packaging in the beverages sector?
The beverages sector has already been re-shaped by increasing corporate and consumer consciousness of environmental, social and governance (ESG) issues around packaging. Now, amidst a raft of new regulations, those who get ahead of the curve may find new opportunities. Brands are increasingly using packaging as a means of addressing ESG concerns and communicating with consumers. Access GlobalData's new whitepaper, ESG in Packaging, to examine the challenges faced by companies, and understand how adapting to regulation around packaging, as well as appealing to ESG-conscious consumers, presents opportunities. The white paper covers:
Which regulations are governments looking to introduce?
How can beverage manufacturers get ahead of regulations?
How can packaging manufacturers help and how will consumers react?
What packaging and recycling innovations are required and what are the barriers to consumer engagement?
Zero in on how the industry operates in the EU and USA, exploring conclusions that remain relevant for other markets too, including Brazil, Canada, Russia and Turkey.
by GlobalData