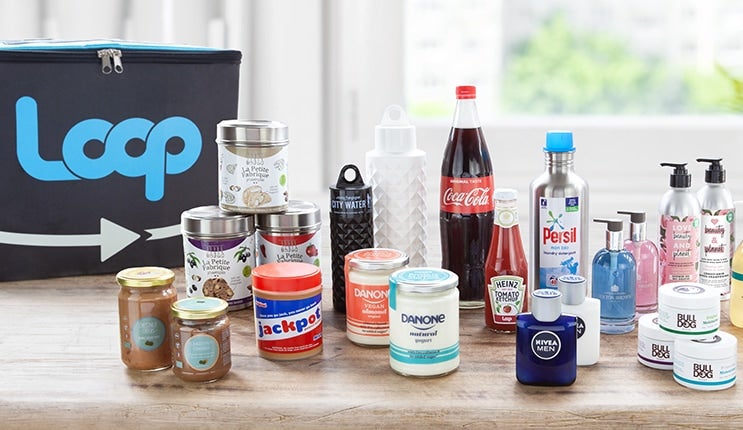 UK supermarket Tesco has partnered with TerraCycle waste management subsidiary Loop to launch a trial which delivers products in reusable packaging.
For the trial, customers in England, Scotland, and Wales can shop online at Loop and have products delivered in a reusable tote. Empty containers can be returned by placing them in the Loop tote bag to be picked up or dropped off at a DPD collection point where they will be sent to be hygienically cleaned and refilled by safety firm Ecolab.
The trial requires a refundable deposit for each product but no membership fees. Some of the products being used in the trial include Coca-Cola, Heinz Tomato Ketchup, and Persil Washing liquid, alongside 147 more products.
Tesco chief executive Dave Lewis said: "Our ground-breaking partnership with Loop has been designed to test a new way of helping customers use less plastic and explore the exciting potential of reuse.
"We will learn what works at scale as we develop plans with Loop to introduce reusable packaging into our business."
The service is being launched as a pilot but aims to deliver to the whole of the UK mainland in the future. Loop plans to partner with Tesco for a year and plans to collaborate with other businesses in the future, including a fast-food chain to be announced.
Should the trial be a success, it may be adopted by other supermarkets.
Further response to the trial
Environmental campaigning group Greenpeace said: "Replacing throwaway packaging with refillable containers won't just help stem plastic pollution and protect wildlife, by preventing swaps from single-use plastic to cardboard, it helps protect our forests too. Plus, reuse can deliver a reduction in greenhouse gases, so it's a win-win-win for the environment."
World Wide Fund for Nature (WWF) chief executive Tanya Steele said: "There needs to be a cultural shift, from a society that is reliant on disposable products and packaging, to one that embraces a circular model. At the heart of this is reusability, which is why Tesco's Loop trial is a welcome first step in understanding how initiatives like this could work at scale in the future."
Tesco said on its website: "Tesco has teamed up with Loop for a ground-breaking trial. Together, we're bringing your favourite products to your door in reusable packaging, cutting down on plastic waste. This initiative is a key part of the Tesco 4Rs plan: Remove, Reduce, Reuse, Recycle."
Reusable packaging amid Covid-19
Tesco and Loop have prepared Covid-19 guidelines available on Tesco's website, which details that antibacterial gel is used between each delivery and that all equipment is disinfected daily. It also notes that a 2m distance will be kept between driver and consumer, with the Loop delivery being delivered to the doorstep.
With returns, couriers will wait 72 hours before touching the Loop tote as a precaution.
When asked about reusable containers amid the Covid-19 coronavirus pandemic, Loop chief executive Tom Szaky told the BBC: "When you go to the dentist, has it ever crossed your mind that the tools the dentist is using have been in hundreds, maybe thousands of mouths before yours? No? It comes down to cleaning."
Szaky added that the service has already been piloted in France and the US and has seen double-digit growth despite the pandemic.
Last week, an open letter from scientists all over the world urged consumers to return to reusable packaging, stating it unlikely for infection to be passed through contact with surfaces.
In November last year, Tesco revealed plans to remove one billion pieces of plastic from its products across the UK stores by 2020.
In January this year, the retailer also pledged to remove 67 million pieces of plastic from its stores, as it scraps plastic-wrapped multi-packs for its tinned products.