Zumbiel Packaging Production Plant, Hebron, KY, US
Zumbiel Packaging is a Cincinnati-based paperboard consumer company, which produces a range of packaging for soft drinks.
Construction Started
Early 2004
Project Type
New packaging plant (converting paperboard)
Location
Hebron, Kentucky, USA
Expand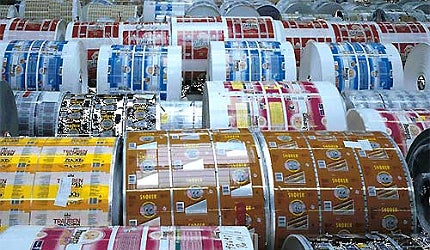 Zumbiel Packaging is a Cincinnati-based paperboard consumer company, which produces a range of packaging for soft drinks, peanut butter and many other consumer goods. The company had been based in Ohio for 161 years and has now moved its operations 22 miles (35km) southwest to the Northern Kentucky area to consolidate, expand and modernise its manufacturing.
"Zumbiel Packaging is one of the largest independent, non-integrated converters in the US."
The company had two small plants in Norwood, Ohio, which produced beverage cartons and other consumer packaging. These two sites were closed in due course and sold off (one 3.6ha site was sold to its neighbour, Xavier University for $8.4m). The beverage carton plant in Norwood remained open for a further three years despite the site being sold because there was a need to phase in new logistics. Xavier University had not decided at that stage what they wanted to do with the site. Xavier had planned a campus expansion project but is yet to finalise the new campus expansion on the site.
The old Zumbiel plant was due to be demolished in January 2008 but an asbestos scare held up the process. The six-storey plant was demolished in March 2008 by Controlled Demolition Inc., a Maryland-based demolition company. All the steel in the structure was taken to AK Steel in Middletown for recycling.
One of the main reasons for moving was a lack of space at either of the two plants and no space to expand; the company had purchased a new printing press which would not fit into either plant. The move involved the construction of a new plant in Northern Kentucky and the installation of new printing and converting equipment, the total investment being $42m.
The two plants employed 400 workers, of which 200 were relocated to areas close to the new facility when it became operational. In addition, the new facility employed a further 65 employees. The employment transfer from Ohio to Kentucky has prompted the State of Kentucky to grant tax incentives under the Kentucky Industrial Development Act worth $3.7m over ten years. Corporex Development and Construction Management LLC were contracted to act as a consultant for the real estate and construction aspects of the Northern Kentucky project.
Construction of the packaging facility
The designer for the new beverage packaging facility was KZF Design and the general contractor was Oswald Construction (both based in Cincinnati). The new facility, on a 30.5-acre site in the Gateway Industrial Park in Hebron, Kentucky is 320,000ft² (28,800m²) but will eventually be expanded in a second phase to over 500,000ft² (45,000m²). The new development is only three miles (4.8km) from Northern Kentucky International Airport, which will help in transportation and communication.
The Hebron facility was completed in the second quarter of 2005, with commissioning and relocation completed just before autumn 2005. Oswald had built structural steel frame, membrane roof, tilt-up skin concrete exterior and 18 dock doors. The interior of the facility includes four structural steel and precast concrete plank mezzanines for office and storage space and a baler room to recycle paper. Zumbiel had relocated all its equipments to the new facility by June 2007.
In January 2007, the plant won the Forest Stewardship Council (FSC) Sustainability Certification for its environmentally responsible and sustainable paperboard packaging.
Flexo press installation at the US plant
Zumbiel Packaging installed its first Fisher & Krecke in-line sleeve-based, gearless flexo press in their Kentucky facility. The Flexpress 16 S was designed to print folding paperboard cartons and is the first in-line flexo press built by Fischer & Krecke.
"Zumbiel Packaging is a Cincinnati-based paperboard consumer company, which produces a range of packaging for soft drinks."
It combines Kochsiek's gearless, servo-driven in-line technology with Fischer & Krecke's gearless, servo driven, sleeve-based Flexpress engineering which was first introduced in 2000.
The Zumbiel Packaging Flexpress 16 S is a 67in (1,700mm) wide, eight-colour, gearless, servo driven press. It features infinitely variable repeats and is designed to run water-based inks on paperboard at regularly achieved speeds of 1,200ft/min (366m/min). The complete system includes a Kochsiek turret unwind with festoon and butt splicer and 67in (1,700mm) Kochsiek Rotary Die Cutter with stacker and delivery system that delivers brick-like stacks of material that allow customers to facilitate advanced levels of automation if they wish.
The advanced tension control systems within the press manage the web in a way that delivers nearly zero web degeneration ensuring there is no slur, lift or distortion. Additionally, the press can run unique combinations of topside and backside printing and the high speed and ease of changeover and make-ready allows Zumbiel to serve customers looking for shorter runs. The press includes Fischer & Krecke's latest computer controls, an integrated web scanning system, and was designed to easily accept a ninth print station when desired.
Printing technologies used by Zumbiel
Zumbiel Packaging is one of the largest independent, non-integrated converters in the US and has been in privately owned operation since 1843. Zumbiel Packaging's battery of presses includes four other flexo presses, three rotogravure presses and two lithographic presses.
The new facility is able to offer a full range of printing technologies – flexographic, lithographic and roto-gravure – and also state-of-the-art graphic and structural design.
Installation of the Flexpress 16 S was a natural progression for the company and was purchased through PacSys, the US printing and converting technology agents for both Kochsiek and Fischer & Krecke. The new press was ordered with every conceivable extra. The press is designed to run production at speeds to allow printed, dried, die cut and creased cartons to be produced stacked and delivered to the customer in a very short turnaround. The ability of the new press to run at a true 1,200fpm and make very fast changeovers, with the highest quality print, has given Zumbiel Packaging a significant edge in the current printed carton market.
---
Related content
---
American Packaging's extrusion lamination and coating facility is located in Rochester, New York.
APCO is a well known contract packaging company in the US that has carried out work for Orange Glo International since 1999.
The Del Monte Food Company is a name synonymous with quality preserved fruit, although the company cans a whole range of foods, including vegetables and meat products.
---