Romaco provides specialist expertise in filling, dosing and packaging solutions for the pharmaceutical and cosmetics industries. From solids, semi-solids or liquids into ampoules, bottles, vials, syringes, capsules, blisters, strips or tubes, we offer the appropriate solution.
Customized packaging for BD Uniject unit dose syringes
Blister packaging solutions – conventional tablets or newly formulated biotech patches
Strip packaging of blockbusters and high volume OTC brands
Consistent high-speed counting/filling of a vast range of products
Cartoning and case packing technology
BOSSPAK – TABLET AND CAPSULE COUNTING
Bosspak tablet counting is based on the rotary principle, single stream filling and QUAD counting heads. With the most comprehensive and flexible product range boasting linear, rotary and monobloc models, it guarantees consistent output for every product and production requirement, from trial batches to high-speed production.
Bosspak counters convince in a vast range of applications such as soft gels, spheres or other difficult to handle products and containers, including tablets, capsules, soft gels, caplets and suppositories.
MACOFAR – STERILE FILLING OF POWDERS AND LIQUIDS
Macofar was built on its early reputation as an expert in sterile powder handling by developing a range of equipment to complement its micro dosing machines, including liquid fillers, washing machines and sterilization tunnels. Now Macofar is a recognized supplier of innovative sterile lines for both solids and liquids.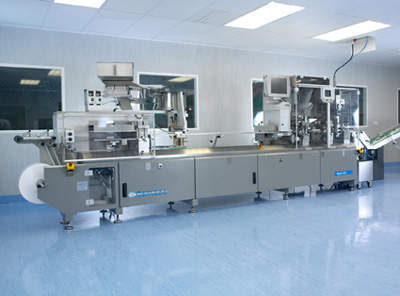 Intermittent motion blister machine noack 623 in line with a Promatic cartoner.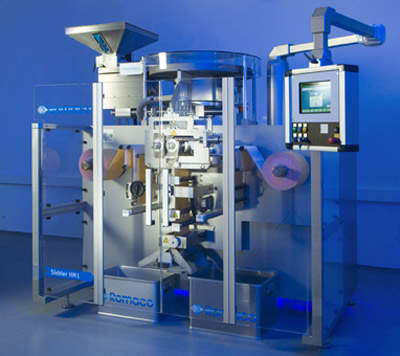 Siebler strip packaging machine hm 1 for the packing of tablets, dragees, capsules and oblongs.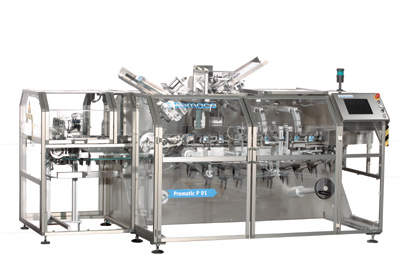 A Promatic intermittent motion cartoner.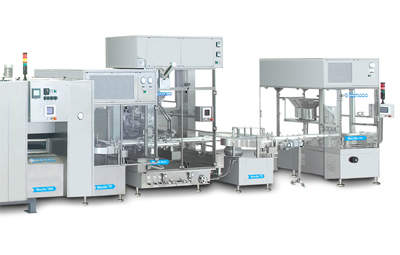 A Macofar sterile line including vials washing, sterilizing tunnel, powder micro dosing and capping.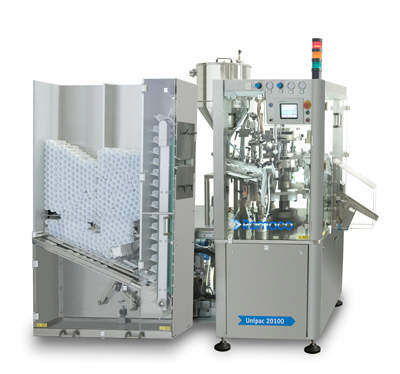 A Unipac tube filler U 20100 For laminate, plastic and aluminium tubes.
The flexibility, versatility and reliability of Macofar machines have proven successful in hundreds of installations and can address every production requirement. These include a variety of filling combinations in capsule filling (such as powders, pellets and tablets) and the supply of a wide range of powders, granulates and liquids.
NOACK BLISTER LINES – INTERMITTENT AND CONTINUOUS MOTION BLISTERING
Noack blister lines stands for unrivalled versatility in blister machines and lines operating in the medium to high-speed range. It offers a choice of sealing methods, outputs and line configurations to suit every requirement, combined with robustness, ease of operation and fast changeover.
Versatility in blister layout – along or across the web – and proven forming and sealing capabilities with every packaging substrate make Noack the reliable choice.
Tablets
Capsules
Soft gels
Caplets
Syringes
Ampoules
Diagnostics
Cold form aluminum
Multi-layer lidding materials
PROMATIC – LEADING CARTONING TECHNOLOGY
Promatic is a world leader in cartoning and case packing. Flexibility and ergonomics are the fundamental design principles in evidence right across the product range. Promatic demonstrate the versatility to handle every product, with standard or customized feeding systems. For example:
Blisters
Bottles/vials
Ampoules
Tubes
Jars
Sachets
Thermoformed trays
Multiple products
SIEBLER – STRIP, DIAGNOSTICS AND CUSTOMIZED PACKAGING
Siebler is the expert in strip packaging lines and engineered packaging technologies for drug delivery systems. Four-side seal packaging solutions and complete system solutions for novel and unique drug delivery and packaging forms are custom engineered.
Siebler machines are used to pack a wide variety of products into sachets, strips and pouches, utilizing standard or dedicated feeding systems as required. Applications include the packaging of tablets, effervescents, capsules, granules, diagnostics, oral strips, transdermal patches and single use syringes.
UNIPAC – PRODUCTIVITY IN TUBE FILLING LINES
Unipac tube fillers offer the highest levels of flexibility and reliability. Unipac technology is designed to meet the demanding requirements of today's market.
Unipac tube fillers set new standards in accessibility and flexibility combined with high productivity. This proven technology is capable of handling a vast range of tube materials and sizes, as well as products in a wide viscosity range. The range includes laminate tubes, plastic tubes, aluminium tubes, tubes with cannula and plastic syringes.