RHODIUS Mineralquellen is a can filling expert providing a complete service from recipe development to the finished product for beverages such as mineral water, soft drinks, tea, as well as a range of non-alcoholic and alcoholic drinks.
Our team of 220 employees fills and produces more than 220 million litres of beverages annually at our advanced facilities. All drinks are filled according to strict standards and guidelines for regional and international companies, including Pepsi-Cola.
Our two canning facilities can produce up to 100,000 cans an hour in eight different sizes and ten packaging options.
Can filling using automated measuring technology
Our state-of-the-art facilities automatically control inline CO₂, Brix, and alcohol measurements, as well as automated pasteurisation and energy recovery. We can store delivered beverages in pressurised tanks with a capacity of up to 120,000l to reduce downtime.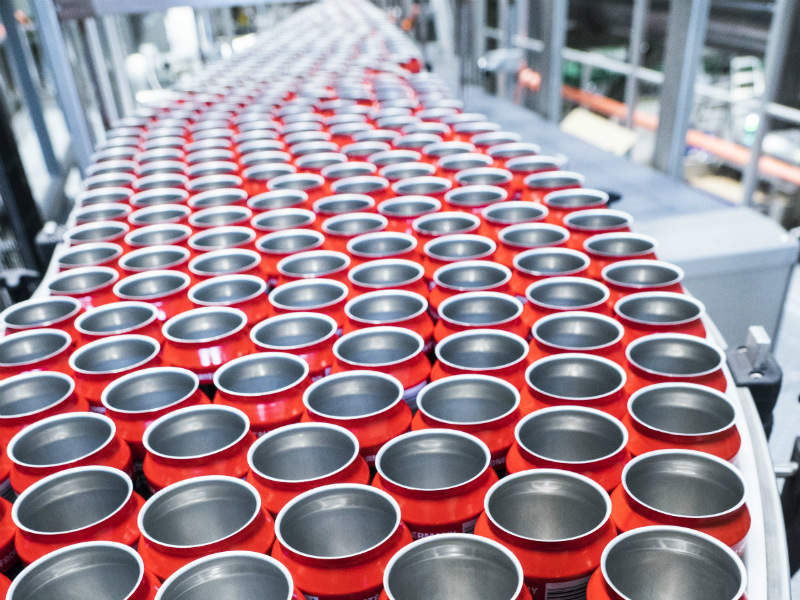 RHODIUS provides aluminium and steel cans ranging from 150ml to 500ml for drinks.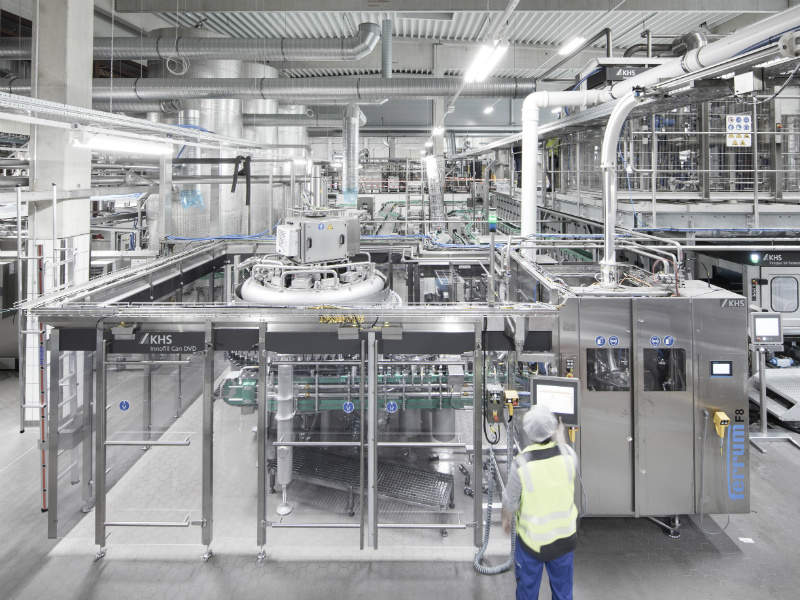 Our automated filling technology ensures drinks have accurate levels of CO₂, alcohol and pasteurisation.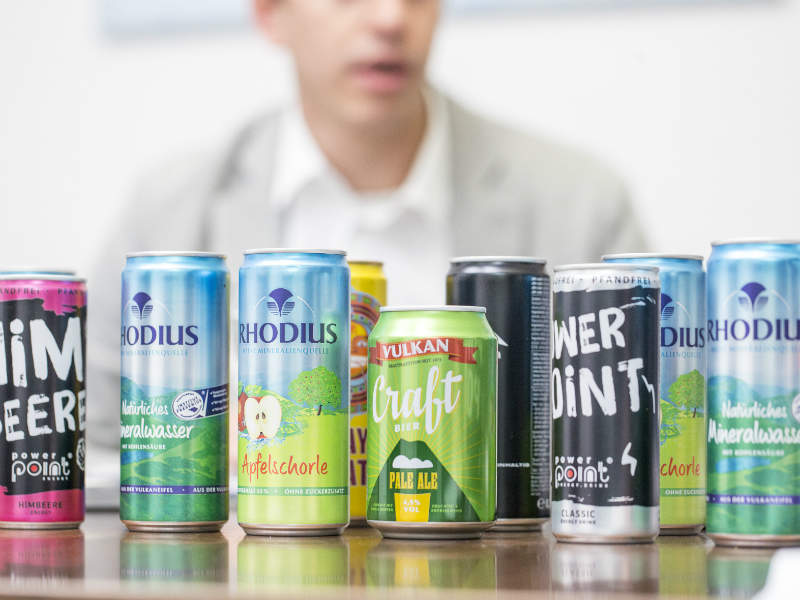 We offer customised design services for cans, including colours, shape, prints and additional features such as resealable lids.
RHODIUS complies with International Featured Standards (IFS), International Organization for Standardization (ISO), and Food and Drug Administration (FDA) regulations, and can supply organic, halal and kosher products if required.
Our lab is equipped with automated measuring technology that allows us to precisely control filling. Individual bottling parameters are reviewed, electronically recorded and evaluated in real-time.
Aluminium and steel can packaging
RHODIUM can fill beverages in aluminium and steel cans in sizes ranging from 150ml to 500ml. There are four packaging lines available, and in addition to the standard tray of 24 units, we can pack cans in trays of six, 12 and 18 in film and cardboard.
Wrap-around cardboard packaging is available. It is set up, filled and sealed by machines, making it suitable for transporting trays of 24 cans for export. Packaged trays can be placed on pallets for a number of transport providers on request. RHODIUS can carry out contracted fillings according to customer requirements.
Customised design for cans
Cans are an ideal packaging solution for beverages that are sensitive to light and oxygen to ensure the durability of the drink. The lightweight material makes up only 3% of the total weight, with the product weighing 97%. Cans are easy to handle in shops and need less space on shelves. For customers, they are easy to transport, open and cool.
Packaging can be designed to attract the customer's attention with a range of bright prints. There is a range of lid options for cans for innovative marketing. Colour and shape can be customised and the lid can be resealable, integrated with a straw or prize codes.
Recipe development for canned drinks
RHODIUS collaborates with selected partners that provide our same high level of innovation and sustainability to ensure that we provide optimal products for our clients.
Specialised recipes are developed for our customers in cooperation with basic and raw material companies based on high-quality, target group specific demands. They are available for a range of beverages, including mineral water, soft or energy drinks, fruit juices, and alcoholic drinks.
Natural colours and flavours, carbonisation and freshness are some of the factors taken into consideration in development of new products or recipes before they can be created into a marketable product.
About RHODIUS Mineralquellen
RHODIUS Mineralquellen was established in 1827 as a family business. We have been a leading contract filling and producing company within the beverage industry since 1958.
We operate as a flat organisation, which means that business decisions can be quickly implemented and all our employees cooperate directly throughout labs, production and quality management departments.
In 1977, our company was the first to can mineral water and distribute it throughout Germany. We are now the only German company that fills cans with mineral water.
Our team is always available to answer customer queries in person, by phone or email. Fill out the enquiry form below for more information about our services.