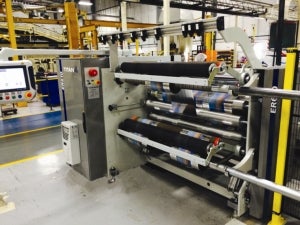 Nampak is Africa's leading packaging company, which not only has extensive operations in South Africa but also in ten other countries on the continent, as well as nine production sites in the UK, supplying lightweight HDPE bottles for the food, drink and dairy industries.
In South Africa, the company provides high-quality solutions in paper, board and glass packaging, rigid plastics, metal containers, bar coding and labelling solutions, as well as extensive recycling operations and R&D in packaging.
The company has recently installed two 1,350mm-wide Titan ER610 compact slitter rewinders, one at its Flexible division in Pinetown, Durban, and the second slitter at its operations in Cape Town, to boost its expanding production of a wide range of flexible packaging materials.
Nampak Flexible general manager Anand Padayachee said: "We already had seven Titan slitter rewinders at our plants in South Africa, including the SR6, SR7 and TS350 models from 1994 through to 2001.
"So we were familiar with the high performance, quality and service that Titan provides for processing flexible packaging materials.
"Good control of web tension is critical in producing the highest quality rewind reels for our customers and the ER610 slitters provide this, as well as faster acceleration and higher running speeds, giving us much improved levels of productivity."
In Pinetown, Nampak has a number of slitters served by a common materials handling system, so the more compact design of the ER610 has actually improved the working space around the machine without any modifications required to the existing handling system.
Available in two widths, 1,350mm and 1,650mm, the ER610 compact slitter has been a great success for Titan, with more than 100 machines now installed in many locations worldwide.
"Both Titan slitters were operating at the expected running speeds from the first day in production, so all our expectations have been met."
It features a pneumatically controlled braking system and a digital edge-guide system, which controls lateral movement of the unwind reel to +/- 2in (50mm).
Slitting systems available include shear knives, rotary razor (burst) or razor slitting in air or groove; the two ER610 slitters installed at Nampak Flexible include an edge trim extraction system, laser core positioning and shaftless unwind roll pick-up from floor.
The Titan ER610 slitter can process a wide range of flexible materials, including plain, printed, coated or metallised film from 20mi to 200mi, a wide range of laminates and paper from 30gsm to 200gsm.
It is a more environmentally friendly solution with reduced power consumption, no hydraulics for oil-free, hygienic operation, un-lubricated compressed air for zero oil/air emissions and its 'one-piece' design also enables rapid installation and commissioning.
The two Titan ER610 slitters were commissioned during February this year with support from Beswick Machinery, the local agent for Atlas and Titan in South Africa.
Mr Padayachee added: "Both Titan slitters were operating at the expected running speeds from the first day in production, so all our expectations have been met."
Investment in plastic film production lines in China has been dramatic in recent years and 2014 was no exception.
Atlas Converting Equipment Ltd is pleased to announce that during 2014 it is celebrating 50 years of excellence in slitting and rewinding technology for its...